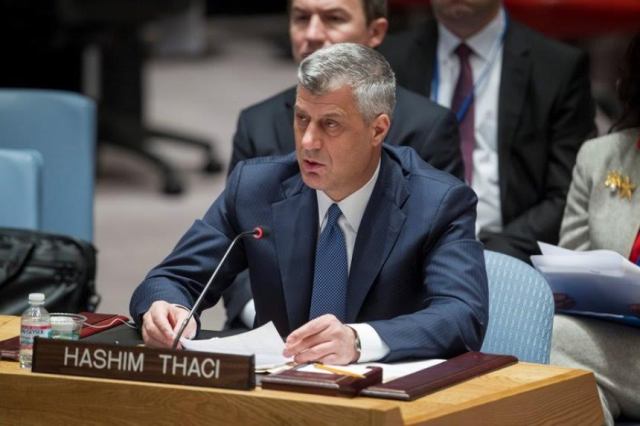 Pristina, 21 August 2015/Independent Balkan News Agency
By Elton Tota
Kosovo's Foreign Minister, Hashim Thaci has talked during the Security Council session taken place today about the creation of the Special Tribunal and the war taken place in Kosovo.
Recalling the crimes committed in Kosovo during the period 98/99 from Serbia, Thaci said that Kosovo will not allow the Tribunal to compare the genocide committed by Milosevic with the eventual actions of the individuals belonging to the oppressed community during or after the war.
"17 years have gone by since the start of the war in Kosovo in 1998. You may remember that our resistance was a case of David fighting Goliath. Allow me to say that no Kosovar would allow the Special Tribunal compare the genocide of Slobodan Milosevic with the desperate eventual actions of individuals belonging to an oppressed community during or after the war. Serbia's war against Kosovo has been made with the involvement of the army, police and paramilitary units and has been backed by Serb intellectuals", Thaci said.
Thaci said that Kosovo will not allow history to be rewritten in order to remove any differences between the oppressor and the victim.
"We will protect the heritage of our war, freedom of Kosovo and our independence", Thaci said.
Foreign Minister Thaci reacted against the declarations of his Serb counterpart in relation to ethnic cleansing allegedly being made against Serbs of Kosovo.
Thaci told Dacic that Serbia and the army of this state have committed crimes in Kosovo by destroying half of Kosovo from 1998 to 1999 and by displacing 1 million people from the country.
According to Thaci, all of this is ethnic cleansing against Albanians and for this, Kosovo will lodge a lawsuit. /ibna/