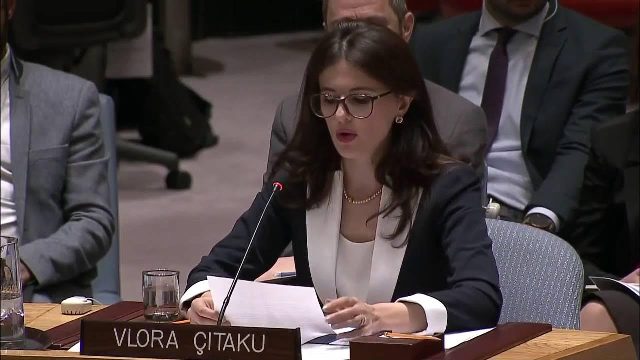 Belgrade and Pristina have once again exchanged accusations in the debate on Kosovo held on Wednesday evening in the UN Security Council meeting.
"There cannot be reconciliation with neighboring Serbia if this country is not held accountable for the crimes committed in during the last war in Kosovo".
This was how the ambassador of Kosovo in the US, Vlora Citaku started her speech during the meeting of the Security Council of the United Nations, which discussed Kosovo's quarterly report.
The diplomat from Kosovo said that the Serb side has not taken any steps to shed light on the serious crimes committed by Serbs in Kosovo.
"We have contributed in the investigation of alleged crimes committed by Kosovars, while you haven't done anything. 20 thousand women have been raped in Kosovo and the number of Serbs who have been indicted is zero. 1262 children have been brutally murdered and the number of accused people is zero. Thousands of people have disappeared and the Serb government builds above massive graves. There cannot be reconciliation without being held accountable", ambassador Citaku said.
Citaku has stressed the fact that in cooperation with the international justice, Kosovo has established the Special Tribunal to seek justice for everyone.
"We in Kosovo do not fear justice, because we have nothing to hide. Our cause and war has been fair", she said.
On the other hand, Serb Foreign Minister, Ivica Dacic called on the UN Security Council to abolish the law approved by the parliament of Kosovo on the Trepca mine, through which the government of Kosovo becomes holder of 80% of its shares.
Meanwhile, the Serb Foreign Minister, Ivica Dacic said that the bill has been approved without the involvement of the Serbs who are part of the institutions of Kosovo.
Dacic also called on the creation of the Association of Serb Communes, accusing Pristina for intentionally delaying this process.
The Serb minister accused Kosovo's authorities and also international authorities for the small number of Serbs who have returned after being displaced from Kosovo and for not punishing people who are responsible for crimes committed against this community.
At the end, both countries expressed their engagement to continue the talks for the normalization of relations between them and to implement the agreements reached so far. /balkaneu.com/