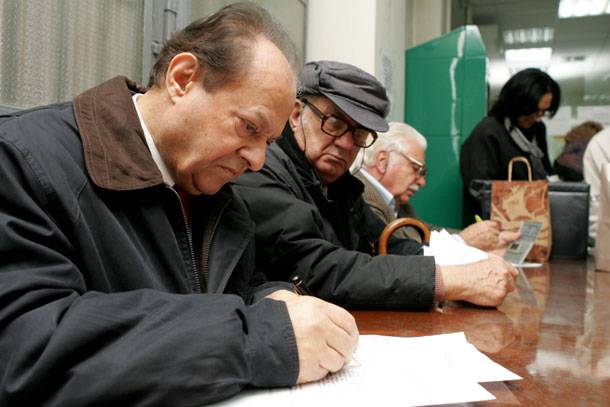 By Milos Mitrovic – Belgrade
The debate between Serbian politicians and the experts whether the pensions should be frozen or not is not coming to an end, but approximately 1.7 million retired people are getting more and more nervous about this.  Amid pro et contra battle, pensioners appeared to be faced with two radically different positions.
Without the pensions freezing Serbia would collapse, World Bank's Country Manager for Serbia Loup Brefort warned recently. On the other hand, Serbian Deputy Prime Minister Jovan Krkobabic says that pensions should be raised.  Otherwise, the retired people would cope with the "social genocide", Krkobabic was quoted as saying by "Vecernje novosti" daily.
The "collapse" that Brefort mentioned, actually relates to the Serbian default, which probability is questionable, given the fact that the pensions would have been raised for about 0.5 percent, "Vecernje novosti" reported.  The average pension, according to the Government's plan, would have been raised for 125 dinars (EUR 1.10).
The associations of the retired people consider the ongoing debate as political calculations. Zoran Popov, professor of the Faculty of Economics in Belgrade shares their position. "The pension freezing is mostly demanded by neoliberals and by those which are trading their own functions. They are ingratiating with the West", Popov said.
However, the politicians that had pleaded for the pensions raise now ingratiated with the voters, Popov added.  "They both do not actually care about the standard of living of the retired people", he explained.
Professor Popov recalled that the devaluation of the pensions started in 2008. The pensions had been frozen for two years.  In September 2008 the retired received lump sums that were equal to the value of their contemporary incomes in return.  But these lump sums as well as the latter compensations had not been adjusted for inflation.
"The pensions are decreasing for five years. The standard of living of the retired would not be improved no matter whether the pensions have been frozen or not", Popov stressed.
Nevertheless, Fiscal Council of Serbia persistently alarms the Government to cut its spending and introduce additional measures such as freezing the revenues. The Fiscal Council suggests further savings, in the first place by the redundancies in the public enterprises.
The average pension in Serbia amounts to around EUR 210. However, more than a million of the retired people get the pension below the average one. The possible October boost would increase their pensions for 50 dinars (EUR 0.44).