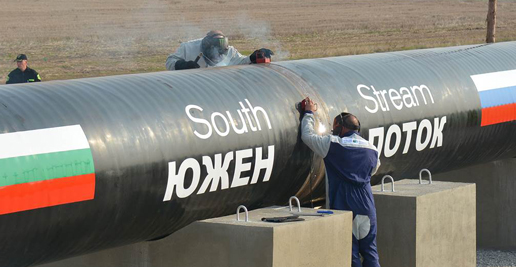 By Clive Leviev-Sawyer of the Sofia Globe
Kristian Vigenin, foreign minister in the Bulgarian Socialist Party government that will resign within the next couple of weeks, has insisted during a visit to the Serbian capital Belgrade that construction of the South Stream pipeline will continue in a few weeks' time.
Bulgaria's government halted work on South Stream after the European Commission informed it of an infringement procedure against Bulgaria because of concerns about the awarding to a company of the contract to build the land section of South Stream.
Speaking after meeting Serbian foreign minister Ivica Dačić, Vigenin said that Bulgaria was in constant dialogue with the EC about the project requirements and hoped to be given clarification in the coming weeks.
Dačić agreed with Vigenin that South Stream was "paramount" to the energy security of South Eastern Eiurope and said that implementing the project was a matter of energy security and not of relations with Moscow.
Vigenin said that Bulgaria and Serbia are good neighbours and friends and they serve as an example of how two countries that have no serious problems with each other can work together in the interest of their people.
He said that this this gives positive signals both to the private sector and the people, and stimulates active administrative co-operation.
Dačić said that relations between the two countries were stable and sincere and Serbia wanted them to be based on common interests.
Vigenin and Dačić agreed to hold political consultations between the foreign ministries of the two countries in the autumn of this year.
These consultations are to facilitate the work on a treaty of friendship, co-operation and good neighborly relations and to discuss issues related to the European integration of Serbia.
It is important to focus on the memorandum of co-operation in the field of European integration, signed by both parties, Vigenin said, adding that he had invited Serbia's chief negotiator to the EU to visit Bulgaria.
A statement by Bulgaria's Foreign Ministry said that the foreign ministers discussed opportunities to strengthen bilateral economic ties, sharing the view that building modern transport infrastructure would contribute to the promotion of trade relations and would attract foreign investments.