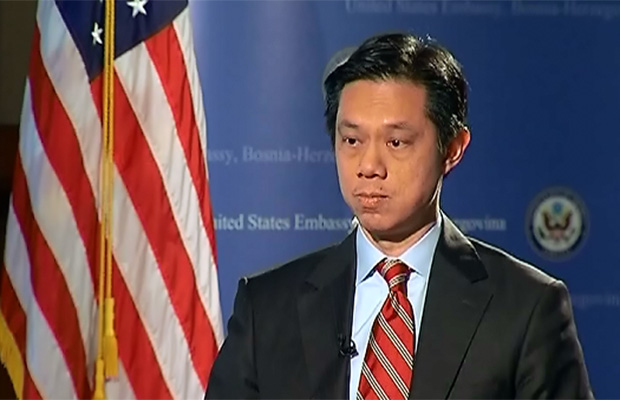 Belgrade, May 1, 2015/ Independent Balkan News Agency
By Milos Mitrovic
Serbia is the bright spot in the Western Balkan map – Hoyt Yee,Deputy Assistant Secretary of United States State Department said in Congress on Wednesday.
Yee, who is in charge in the Bureau of Europeanand Eurasian Affairs, underlined that Serbia's commitment to the dialogue with Pristina "was most encouraging"; "normalized relations" between Belgrade and Pristina have improved regional security, he said, Voice of America reports.
At the debate on Western Balkan in the European subcommittee of the House of Representatives, Yee recalled that Serbia recently has taken steps towards maintaining constructive relations with its neighbors. He stressed that Belgrade has hosted Albanian Prime Minister last October; this was first visit of an Albanian PM to Belgrade in 68 years, Yee underlined. "We keep supporting Serbia's efforts to join European Union and praise its progress in this regard", Yee said.
There were opposing opinions on Western Balkan at the debate – for some, region has been significantly advancing since 1995 Dayton peace accords despite the remaining challenges. Others suggested that Western Balkan is facing economic and political stagnation. Twenty years since the end of the war, Bosnia is among the poorest European countries.
Dana Rohrabacher, chairman of the European subcommittee, was skeptical considering the administration's assessments, which suggest that situation in the Balkan has improved. As he said, the region is characterized by "total stagnation" for 20 years.
"Following the wars, economies usually grow with the most rapid rates, but we did not have such growth in the Balkan", Rohrabacher said mentioning corruption as one of the problems.
Yee admitted that progress in the region was not nearly as fast as everybody would like, with an exemption of Croatia which has joined EU in 2013. However, he remarked that the advance was made, adding: "Serbia is, in fact, bright spot at the Western Balkan map".
Ivan Vejvoda from the German Marshall Fund emphasized that slowed growth in the region was the result of the world economic crisis. Balkan economies need direct foreign investments, he added.
Joseph DioGuardi, president of the Albanian American Civic League, stressed that the progress of Kosovo is locked due to blockade within international institutions and visa regime with the EU.
He appealed to EU countries to put pressure on EU countries that did not recognize Kosovo to do so.
"There are permanent rival relations between Serbs and Albanians, at the government level at least. How is normalization possible if Serbia – in every occasion it gets – says it would never recognize independence of Kosovo? How is European integration feasible if five out of 28 EU members do not recognize Kosovo's independence", DioGuardi said.
In his words, the Albanian minority in FYROM is being discriminated and country should be federalized.