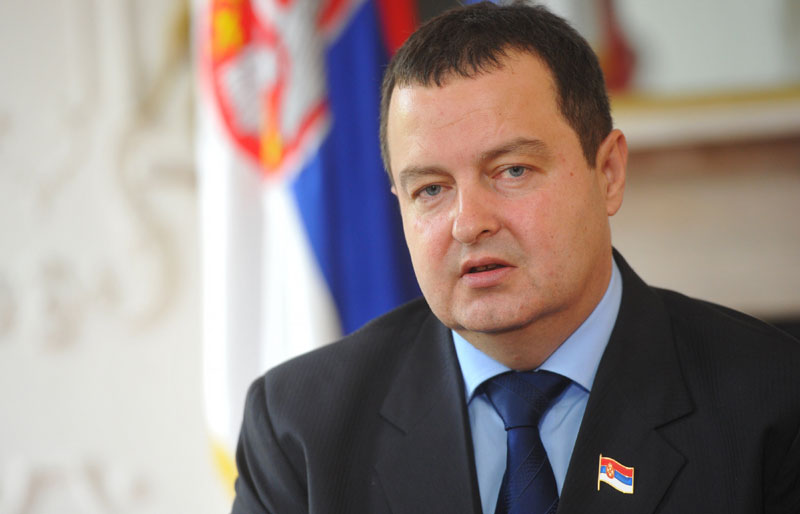 By Milos Mitrovic – Belgrade
Serbian policy regarding the Ukraine crisis has not changed and Belgrade appeals to presidents of Ukraine and Russia Petro Poroshenko and Vladimir Putin to strive towards its peaceful resolution, Serbian Foreign Minister Ivica Dacic said today.
"We support peaceful solution for the Ukraine crisis. Both Russia and Ukraine are our friends", Dacic said at his monthly press conference in Belgrade.
Dacic said that Serbia "as the country close to both Ukraine and Russia as well as with Brussels and Washington is ready to offer its utmost support". He added that Serbian presidency of the OSCE in 2015 would be good opportunity in that sense.
However, Dacic reiterated Serbian position considering sanctions against Moscow – which means that Serbia respects territorial integrity of Ukraine, including Crimea, but it will not impose sanctions to Russia like European Union countries did.
"We cannot impose sanctions to those bigger and stronger than we are", Dacic said adding that such stance follows "state and national interests" of Serbia.
PM suggested that energy sector is crucial for Serbian position on sanctions.
"Delicacy of our position is very clear. We have an economic interest which has no alternative. If we get an alternative, we could think about giving up from South Stream. However, I did not hear that somebody has offered the alternative", Dacic explained.
Last month during Prime Minister's Aleksandar Vucic's visit to Moscow where he has had talks with Russian President Vladimir Putin, the representatives of two countries have signed the contract on "South Stream" gas pipeline constructing in Serbia.
Dacic said that Serbia has made breakthrough in foreign policy after the current government was formed in April. "The international standing of our country is much better than it was before".
He specified that Serbian foreign policy's top preference is European integration process adding that improving relations with neighboring countries and protection of country's territorial integrity – probably alluding to Kosovo – are also the priorities.
Dacic announced that he would visit Berlin and talk with German Foreign Minister Frank Walter Steinmeier on August 22. "This will be very important visit, not only from bilateral perspective. This visit will mark the beginning of my tours concerning Serbian OSCE presidency".
On August 28 German Chancellor Angela Merkel would host the conference on Western Balkans, Dacic recalled. In June, Serbian Prime Minister Aleksandar Vucic visited Berlin twice. On June 11 during his official visit he had a meeting with Merkel and later that month he and Steinmeier attended the conference organized by Serbia-Germany Forum.