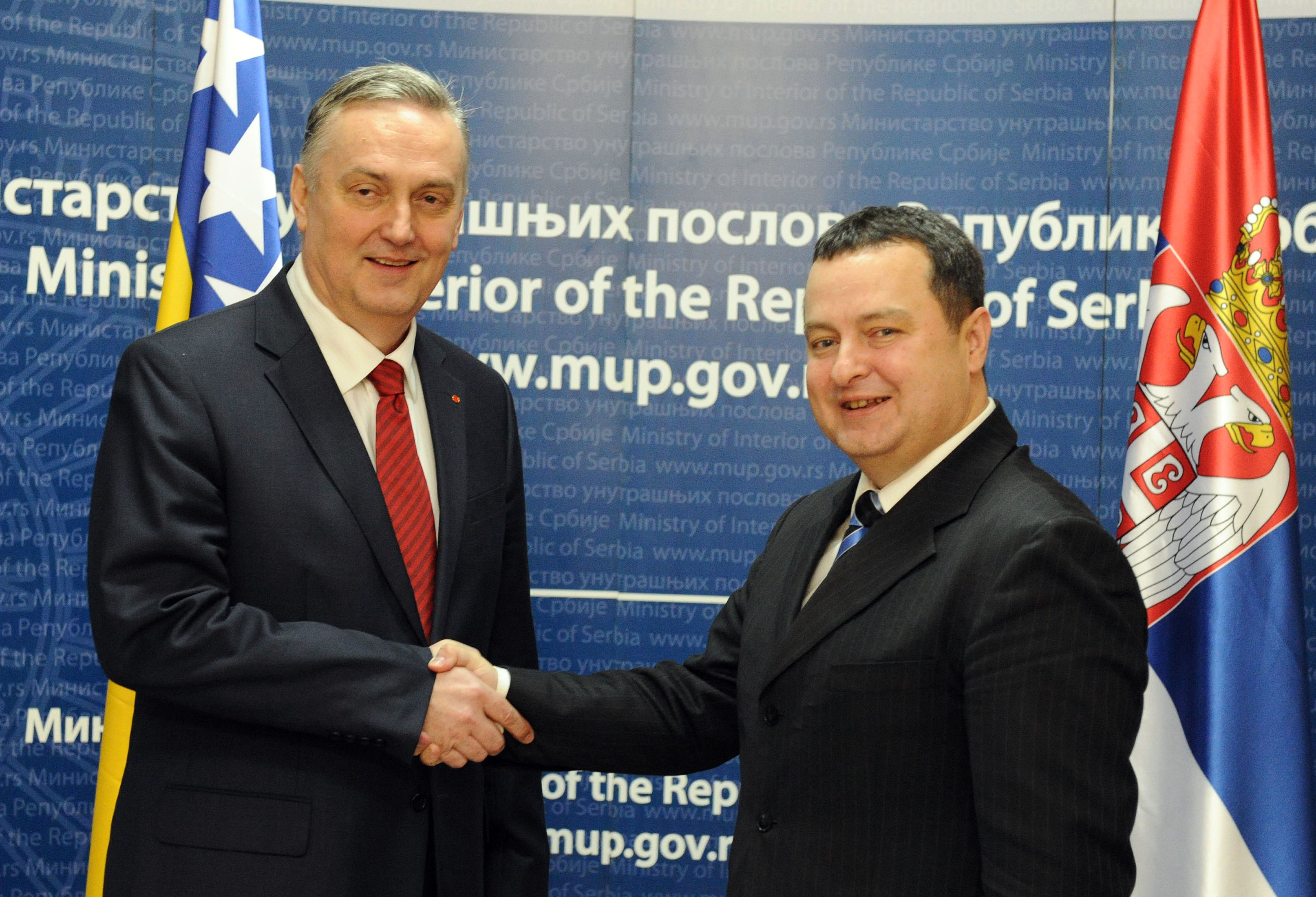 By Milos Mitrovic – Belgrade
Zlatko Lagumdzija, foreign minister of Bosnia and Herzegovina, said today that Bosnia and Serbia represent a model for the regional cooperation. In his official visit to Belgrade, Lagumdzija met his Serbian counterpart Ivica Dacic and prime minister Aleksandar Vucic.
The conference on Western Balkans which will be held in Berlin on August 28 was the central issue during Lagumdzija's discussion with Vucic, Belgrade media reported.  Two officials have put an emphasis on mutual projects of Serbia and Bosnia in infrastructure; these projects would be presented in Berlin in order to found the ways for its financing from EU funds.
The implementation of these projects would give an impetus to security strengthening in the region, premier Vucic underlined, according to government's media office.
Lagumdzija and Serbian foreign minister Ivica Dacic have concluded that the relations between two countries have been significantly improved, Tanjug news agency reported: "Serbia and Bosnia are properly interconnected and they are far stronger together than separated".
As a relevant example for good bilateral cooperation, two ministers recalled donor conference which was organized following disastrous floods in Serbia and Bosnia in May.
"The international community has positively assessed our joined approach", Dacic said. In this regard, Lagumdzija said that "Bosnia and Serbia represent a model for the regional cooperation".
Considering engagement of Serbian and Bosnian nationals in the wars abroad, Dacic said that the "legal mechanism" should be found to prevent such practice stressing the need of the "joint response" with EU countries.
Lagumdzija indicated that the root for individuals' decision to go to war abroad was in the conflicts that occurred in the former Yugoslavia in 1990s, "in the atmosphere of war which has resulted with different ideologies of divisions and segregations".
Another cause is "injustice and despair" in both Serbia and Bosnia and Herzegovina, he added.