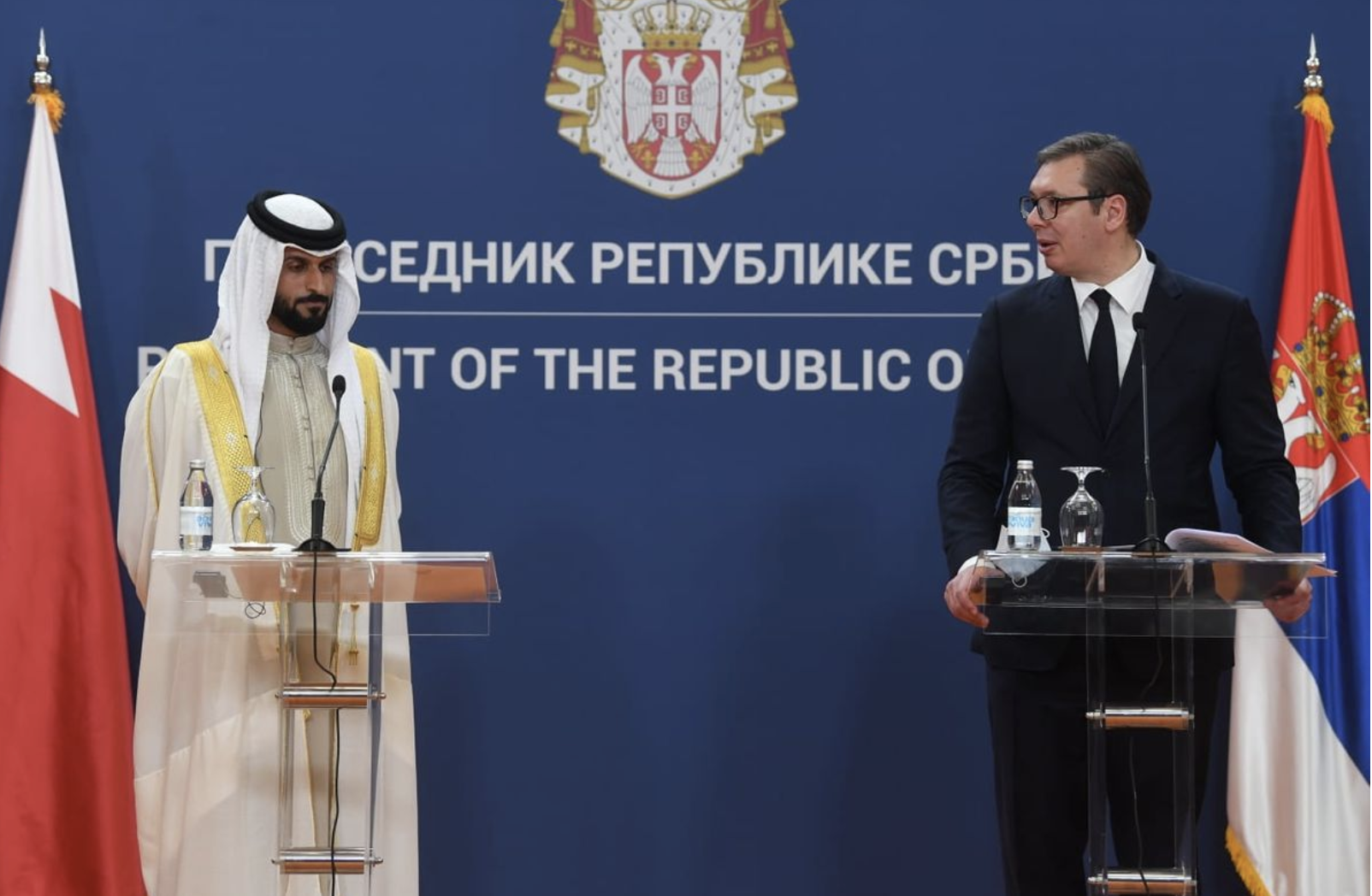 Serbian President Aleksandar Vučič met with His Highness Sheikh Nasser bin Hamad bin Isa Al Khalifa, Representative of the King of Bahrain for Humanitarian Affairs, Youth Affairs and National Security Adviser, who is on a two-day visit to Serbia. Following their meeting, President Vučić expressed his gratitude that shortly after his visit to the country it was decided for a Bahraini delegation to visit Serbia.
"We have built mutual trust on many important issues, the manner in which sovereign and independent countries operate, already during the first meeting in Manama, and this continues in Belgrade," said President Vučić, stressing that we would witness the rapid progress within a few years and the development of a closer partnership and friendly relations between Serbia and Bahrain.
"Apart from building trust and close cooperation, in order to be able to work for the further development of relations, we must move on to concrete actions. We agreed to proceed with double taxation and to sign a comprehensive intergovernmental agreement between Serbia and Bahrain, and therefore show that we are committed to co-operation in all areas," the Serbian president said, adding that talks would continue today and a business forum would be held.
President Vučić said they will discuss specific projects and the support each country can provide to one another in international organizations and institutions.
"We need to increase the small number of transactions and create real cooperation. We have launched an initiative to set up a joint cooperation committee, which will contribute to the further development of our relations," said President Vučić.
"In Serbia you will have a sincere friend and a very loyal partner. Someone who will take care not only of their own interests, but also of the interests of their friends," said President Vučić, asking the Sheikh to convey his greetings to King Hamad to host him in Serbia.
Sheikh Nasser bin Hamad bin Isa Al Khalifa, spokesman for His Majesty the King of Bahrain, said his official visit highlighted the importance of bilateral ties, as well as the values ​​of the partnership between the two countries.
"We hope the growing partnership will be strengthened through diplomatic, economic and strategic ties between the two countries," the sheikh told at a joint news conference, noting that he was honored to lead the high-level delegation of his kingdom as envoy of the King, just one month after President Vučić's historic and promising visit to his country.
He conveyed the greetings and best wishes of the King of Bahrain, as well as the heir to the throne, Prince Salman.
"During your recent visit to Bahrain, the King of Bahrain ordered the opening of a royal embassy in Belgrade, which was received and responded to by your government," the sheikh said, adding that the opening of official channels of communication was an important step in facilitating, improving and strengthening cooperation.
He added that he travelled to Belgrade accompanied by high-ranking representatives of Bahrain's economic and strategic institutions, in order to agree on concrete steps to realize the common visions of the leaders of the two countries.
"Thank you for the kind invitation and cordial hospitality," said Sheikh Nasser bin Hamad bin Isa Al Khalifa, expressing his satisfaction after witnessing the beauties and wonderful history of Belgrade and its cordial people.
On the second day of the visit, a demonstration of weapons, military equipment and capabilities of Serbian Army units took place at the Colonel Milenko Pavlovic Military Airport in Batanica, attended by President Vučić and Sheikh Nasser bin Hamad bin Hamas bin Isa Al Khalim, Representative of the King of Bahrain.
Air Force and Air Defense units, the Army, the 72nd Special Operations Brigade and the 63rd Parachute Brigade participated in the presentation. /ibna