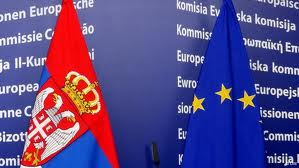 By Miloš Mitrović – Belgrade
The chief Serbian negotiator for the accession talks with the European Union would be appointed next week, the leaders of the ruling coalition agreed on Sunday. The meeting of the coalition leaders was held amid speculations that it would bring the news about government reshuffling. Minister for the regional development and local self-government Verica Kalanović revealed that the accession talks with the EU was the main issue, "rather than the changes in the cabinet".
However, she confirmed that the government would be reshuffled until the end of this month.
On June 28th EU Council decided to open the accession negotiations with Serbia "at the latest" in January 2014. At the same time, EU expects from Serbia to implement the Brussels agreement about the normalization of relations with Kosovo "totally and permanently".
Ahead to Sunday "reshuffle meeting" Belgrade media reported that Verica Kalanović would be ousted from the current position, as well as the education minister Žarko Obradović and transport minister Milutin Mrkonjić. Ms. Kalanović is the member of United Regions of Serbia, leaded by finance minister Mlađan Dinkic. On Thursday Dinkić dismissed the rumors about Kalanović`s resignation. At the same day, Kalanović was proclaimed the minister of the year for Southeast and Central Europe. Kalanović was handed the award as part of the 2013 Europe Top Manager award ceremony in Sarajevo.
"European integration is the main objective of the government. Therefore, we have agreed to appoint the head of the negotiating team as soon as possible. We have discussed principles, rather than names of the cabinet ministers", Kalanović said on Sunday.
Nevertheless, she confirmed that the ruling coalition discussed both the reshuffle and the new blueprint of the government. "Until the end of July the new government, capable to face all the challenges will emerge", Kalanović stressed.
Later this month the ruling coalition leaders will discuss the changes in the government, Kalanović said.
She declined to comment whether the annulling of the high school entrance exams was the reason good enough for education minister Žarko Obradović to be dismissed.  The scandal broke after the mathematics and Serbian language tests were stolen from the Official Gazette printing room.
Kalanović said that some scandals which involved the members of the government were fabricated.
Prime Minister Ivica Dačić said earlier that "ministers which performed poorly will be changed".