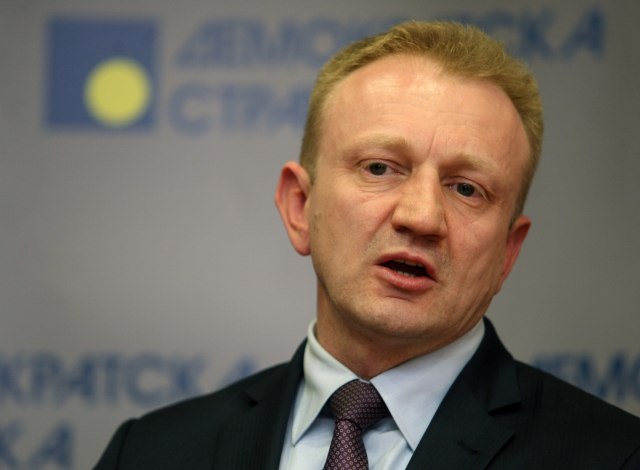 By Miloš Mitrović – Belgrade
"The country is governed by the man who has lost all direct elections; he is governing with the help of the party which he has inherited from his political father". This is the description of Serbian Deputy prime minister and Progressive Party (SNS) president Aleksandar Vučić by Dragan Đilas, Democratic Party (DS) leader.
A year ago Đilas succeeded DS president post from Boris Tadić, former two-terms Serbian president. Tadić has lost April 2012 presidential elections to Tomislav Nikolić, Progressives leader at a time; SNS emerged as the winner in parallel general elections and DS went into opposition. Once he was elected for president, Nikolić gave up his party chief post and Vučić became new SNS leader. Due to coalition agreement, Vučić gave coveted premiership place to Socialist Party of Serbia leader Ivica Dačić.
"In a country between permanent anxiety and unrealistic optimism, between euphoria and melancholy, citizens are looking for the new hope and for the shaken confidence restoring. Serbia is looking for normality. DS offers such normality", Đilas said in the interview for "Danas" daily. In September, Đilas was sacked from the post of Belgrade's mayor after more than a year of political coexistence with SNS and Socialists; latter were DS coalition partners at national and local level.
Serbian media and political rating agencies unanimously say that Vučić is "the most powerful" man in Serbia; Đilas claims that Vučić is emerging dictator.
Summarizing a year at DS top, Đilas said his greatest challenge was "to stay human being and not react at same way as those which were doing their best to ruin my life". "After some time I have succeeded to refrain from reactions on assaults…".
Đilas explained he is dealing with politics to improve society. In his opinion, he was successful in that course as a Belgrade mayor; he expressed hope it would be the same at the national level "when citizens give us confidence".
"I took leadership in the party which was removed from power after five years; many officials were not used to be in the opposition. The party was indebted with more than four million euros, deprived from access to media and exposed to unprecedented political and media oppression. The party has been always treated as pro-Western by the East (Russia) and was finally scrapped by the West because it was not cooperative enough with regard to Kosovo. I took leadership in the party which has alienated itself from intellectuals and which was annoyed with any advices from intellectuals, even with benevolent advices", Đilas specified.
When asked about failed cooperation talks with Liberal Democratic Party (LDP),  Đilas said that LDP "ultimately demanded creation of the new party, an idea which was never acceptable". According to Đilas, the new party's objective would be "to become partner of Aleksandar Vučić in the next government at any price".
Đilas concluded he was frightened for the future of Serbia, predicting economic collapse and selling Telecom, EPS (national electric utility power company) and agricultural land. "We will become the country without the future".