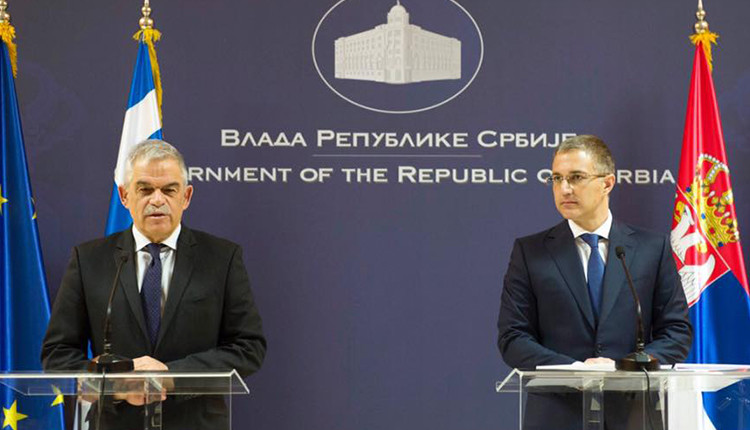 Serbian and Greek interior ministries will in the coming period "try to increase their cooperation in the fight against all forms of crime."
Serbian Deputy Prime Minister and Interior Minister Nebojsa Stefanovic and Greek Alternate Minister of Public Order and Citizen Protection Nikolaos Toskas said this in Belgrade on Wednesday, the government announced.
After a meeting with Toskas, Stefanovic pointed out that this concerns illegal migration, terrorism, organised crime and other forms, while concrete results will be presented after the meeting of prime ministers of the two countries during this year.
During the meeting, the ministers discussed promotion of cooperation in the fight against organised crime, which also includes the fight against drug trafficking.
Stefanovic "pointed out that he and his interlocutor spoke about strategic issues, such as ensuring the security of the infrastructure that connects the two countries, but also the possibility of establishing a protocol on mutual cooperation in the tourist season and joint patrols," and "expressed his gratitude to Greece for the principled stance not to recognize the self-proclaimed independence of Kosovo and Metohija, stressing that they talked about the further steps of Serbia on its path towards the European Union."
They also discussed cooperation in emergency situations, because only an effective and quick response can guarantee saving lives.
Toskas stressed that Serbia is "a friendly country, with which Greece has traditionally good historical and cultural relations."
Both countries are the pillars of stability in an unstable environment with constantly emerging threats and risks, he underlined./IBNA