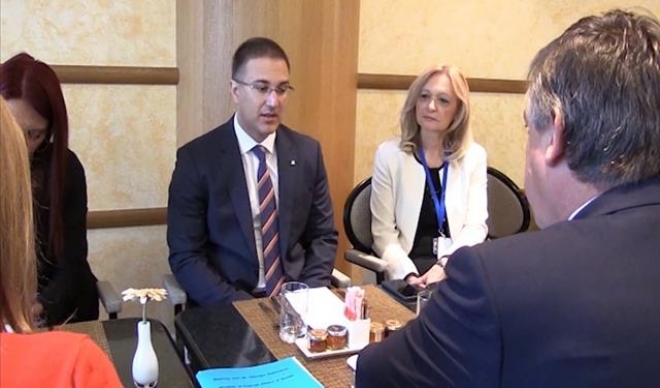 Deputy prime ministers and interior ministers of Serbia and Belgium on Tuesday signed an agreement on police cooperation.
The agreement allows for broader top-level exchange of information, exchange of police officers and establishment of joint investigative teams to make the fight against organized crime and terrorism more efficient, Tanjug has reported.
Serbia's Nebojsa Stefanovic and his Belgian counterpart Jan Jambon spoke about ways to fight together against people smuggling, illegal drug and arms trade and terrorism.
Stefanovic pointed out that the Serbian and Belgian police exchanged more than 1,400 operational data in the previous year and expressed the hope that the formation of joint investigation teams, on the basis of this agreement, will contribute to a more efficient fight of the police of the two countries against all forms of organized crime.
The agreement will enable Serbia to become part of a wider European security network, which will contribute to greater safety of our country and its people will know that they have one more partner country they can rely on, the Serbian government said on its website.
Stefanovic said that he and his Belgian counterpart discussed joint activities that the police can take in the fight against organized crime in all its forms – the fight against human trafficking, drug trafficking, arms smuggling, but also in the comprehensive fight against terrorism.
It was agreed that the two countries regularly exchange information on this and that the two police give maximum contribution not only to the security of the citizens of the two countries, but also at European level, Stefanovic said and thanked Jambon on good cooperation to date.
Jambon said that security is based on good intelligence services and that the signing of the agreement allows the two countries to strengthen their relationships.
He noted that Serbia and Belgium share common challenges in a number of areas, such as the migrant crisis./IBNA
Source: B92