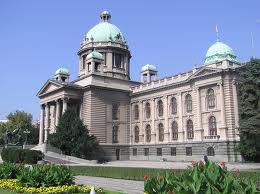 By Milos Mitrovic -Belgrade
Italy had been among major Serbian trade partners, and this year it would become single largest Serbian export partner, Minister for Finance and Economics Mladjan Dinkic said today. Talking in bilateral economic forum in Belgrade, Dinkic specified that turnaround of Italian companies in Serbia would reach EUR 4 billion in 2013, sum more than twice larger in comparison to the one from the year before.
Dinkic recalled that more than 500 Italian companies have been operating in Serbia employing around 20,000 people. The biggest Italian investments in Serbian market had been made in the automobile, textile, food and furniture industries, and the finance sector. He stressed that Serbia offered a favourable tax system, qualified work force and had signed free trade agreements with the EU, Russia, Belarus, Kazakhstan, Turkey, CEFTA and EFTA countries.
Italian Ambassador Armando Varricchio revealed that "Italy has a direct interest in the development of Serbia and of the entire Balkan region, what is the reason why Italy is a committed supporter of Serbian and Balkan EU integration".
On the other hand, "it is reasonable to raise the question whether Serbia should focus all its attention to EU accession process while neglecting its own interests in other markets, especially Russia, China, Middle East and Africa", Belgrade "Danas" daily noted.
"Bulgarian export in Russia is incomparably higher" than Serbian, Mladjen Kovacevic, professor from Academy of Economic Sciences in Belgrade said for "Danas". Serbia should direct its attention to Russian market, Kovacevic stressed.
"It is not realistic to believe that all our problems will be solved once we enter EU. Since this would not be the case, an organized approach to big markets like Russian, Chinese, Latin American and Turkish should be seriously considered", Kovacevic explained.
"An alternative always exists. We are not talking about one definite choice. It is about the solution that is more acceptable. Serbia will not fade disappear without EU entry. On the other hand, Serbian recovery will be slower in that case. In other words, resolving aggregated economic problems would be more difficult without EU support", Mihailo Crnobrnja, dean of the Faculty of Economics, Finances and Administration commented.
Tomorrow European Union High Commissioner Catherine Ashton will start the procedure for making a report on Serbian progress towards EU membership which is closely related to normalization of relations between Belgrade and Pristina. The chances for Serbia to start membership negotiations in June, which has been expected by its Government, are much lower after Belgrade has recently refused the EU-sponsored deal with Pristina.