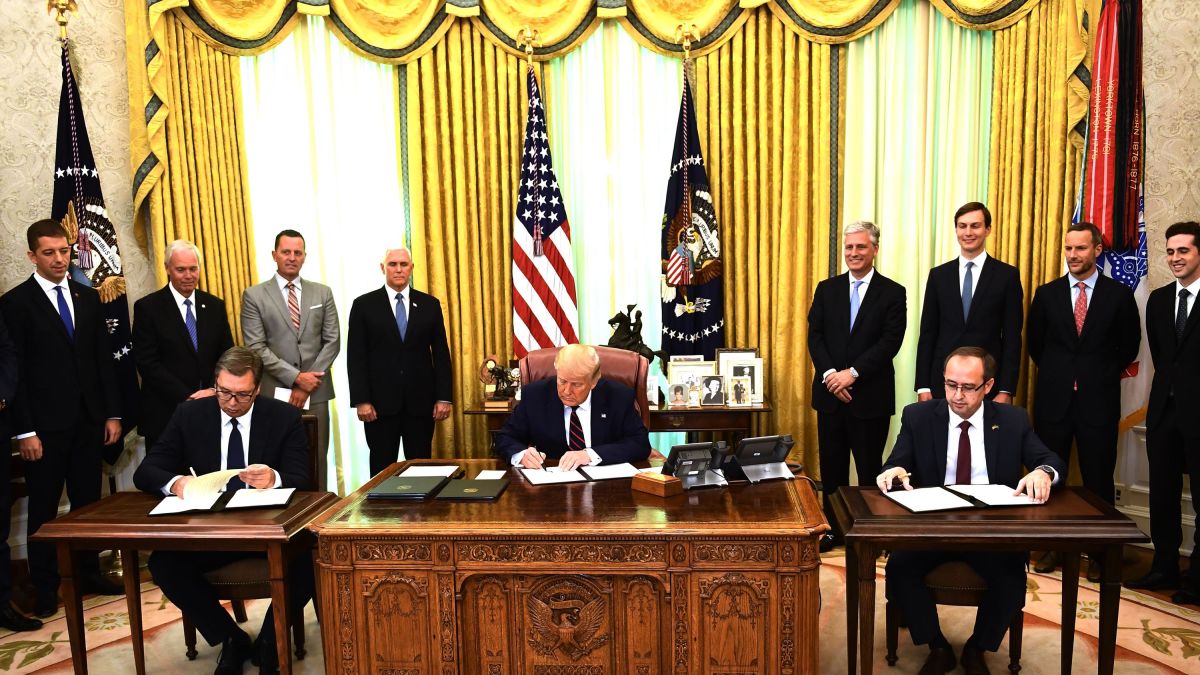 Serbia is a key country in the region for maintaining stability and peace, and therefore the opening of a regional office of the American Economic Development Corporation (DFC) represents a new beginning for Serbia and the Western Balkans, according to the Ljubljana-based International Institute for Middle East and Balkan Studies (IFIMES), which analyzes the Belgrade-Pristina agreement reached in the United States.
The analysis of the "economic normalization" agreement and its consequences, entitled "US-Serbia-Kosovo 2020 Agreement: A New Era of Political and Economic Relations between Serbia and the United States", emphasizes that this should highlight the strength of the region, which will no longer be "locked in the past", but will "focus on the future".
It is noted that the signed agreements provide for the mutual recognition of Israel and Kosovo and the relocation of the Serbian embassy from Tel Aviv to Jerusalem within a year. Analysts from Slovenia conclude that the Donald Trump administration aims through a package of agreements not only to relax relations between the three major monotheistic religions (Judaism, Christianity and Islam), but to find lasting solutions to decade even centuries-long open issues and conflicts.
Regarding the "Mini Schengen" initiative, analysts assessed that it is a bold and visionary idea and that it represents the most important project since the dissolution of the Socialist Federal Republic of Yugoslavia to date, because it will contribute to the homogenization of the European area and ensure the implementation of the European freedoms of movement of people, goods, capital and services.
"It would turn Balkan nationalisms meaningless and at the same time strengthen the EU, which is powerless and under pressure from Russia, China and Turkey and which does not strongly opposes populists, who are collaborating with forces whose only goal is to destroy European unity and, ultimately, the EU", the analysis says.
Experts also believe that the Krško nuclear power plant model can be applied to the disputed ownership issue, namely shares of ownership in Kosovo, according to which each party will have 50% of the ownership share and, consequently, joint management of the power generation plant.
"The Krško nuclear power plant model can also be applied in Kosovo, because the power plant remains on Kosovo territory and the ownership sections between Kosovo and Serbia will be determined, as well as the joint management of the energy facilities. "This model, using a ratio, could also be used for real estate shares in other parts of Kosovo", analysts argue.
They believe that the EU's role during the COVID-19 pandemic was slow and awkward, and that it showed all its weaknesses, namely its inability, during the mediation in the dialogue between official Belgrade and Pristina.
Regarding the significance of the agreement signed in Washington and the beginning of a new era of political and economic relations between Serbia and the United States, Slovenian analysts quote what Serbian President Aleksandar Vucic and President Trump's Special Envoy for the Belgrade-Pristina Dialogue, Richard Grenell, said at the opening of the International Development Finance Corporation (DFC) office in Belgrade./ibna