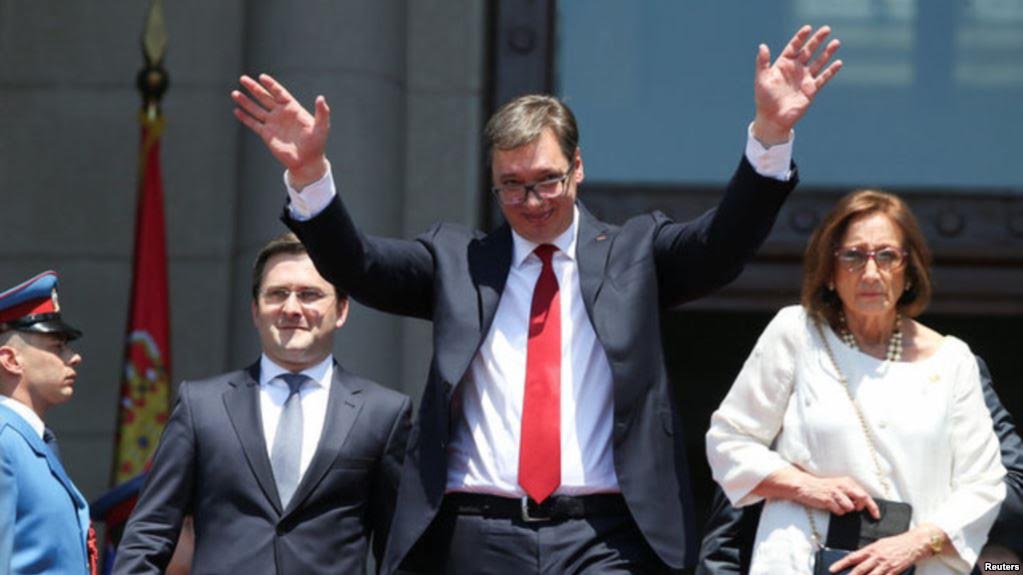 Serbia continues to contest the independence of Kosovo declared in February 2008. The new president, Aleksandar Vucic has taken his oath on Wednesday on the Constitution of Serbia, without forgetting to mention Kosovo, which he sees as part of the country.
"I pledge that I will use all my powers to preserve the sovereignty and territorial integrity of Serbia, including Kosovo, which is part of it…", he said during his oath.
His declarations have sparked reactions on the Kosovo diplomacy.
Outgoing Foreign minister of Kosovo, Enver Hoxhaj says that Serbia's president, Aleksandar Vucic has taken his oath the same as his predecessors, based on myths.
"Kosovo shall never be part of Serbia. Vucic's oath not only is untrue, but he also sends negative messages to the entire region that Serbia lives in myths", Hoxhaj said.
Meanwhile, Kosovo's ambassador to the United States, Vlora Çitaku declared that Vucic's speech in the Parliament of Kosovo is not that much different to the radical, Vojislav Sjesl.
"During yesterday's oath, the president of Serbia said that he will fight in order to keep Kosovo as part of Serbia. What world is he living in?", she said.
Meanwhile, former Prime Minister, Ramush Haradinaj came out with a strong reaction against Belgrade's policies.
He said that Serbia is Kosovo's biggest enemy and that political class in Belgrade is preventing the development of the country.
Haradinaj said that Kosovo doesn't see Serbia as a partner or good neighbor.
"We will not recognize Serbia until it recognizes us. We will forge partnerships with countries such as Albania, Croatia… and or western allies. We can continue if the political class in Serbia wants constructive dialogue, otherwise, let them do how they please", Haradinaj said.
A day after he formally resigned from the post of the Prime Minister of Serbia, Aleksandar Vucic sworn as the new president of the country, pledging to work for peace and stability in the region, while working to strengthen Serbia's armed forces.
A former ultra nationalist who claims to have turned into a pro European reformer, Aleksandar Vucic scored a great victory in the presidential elections that were held on 2 April. /balkaneu.com/