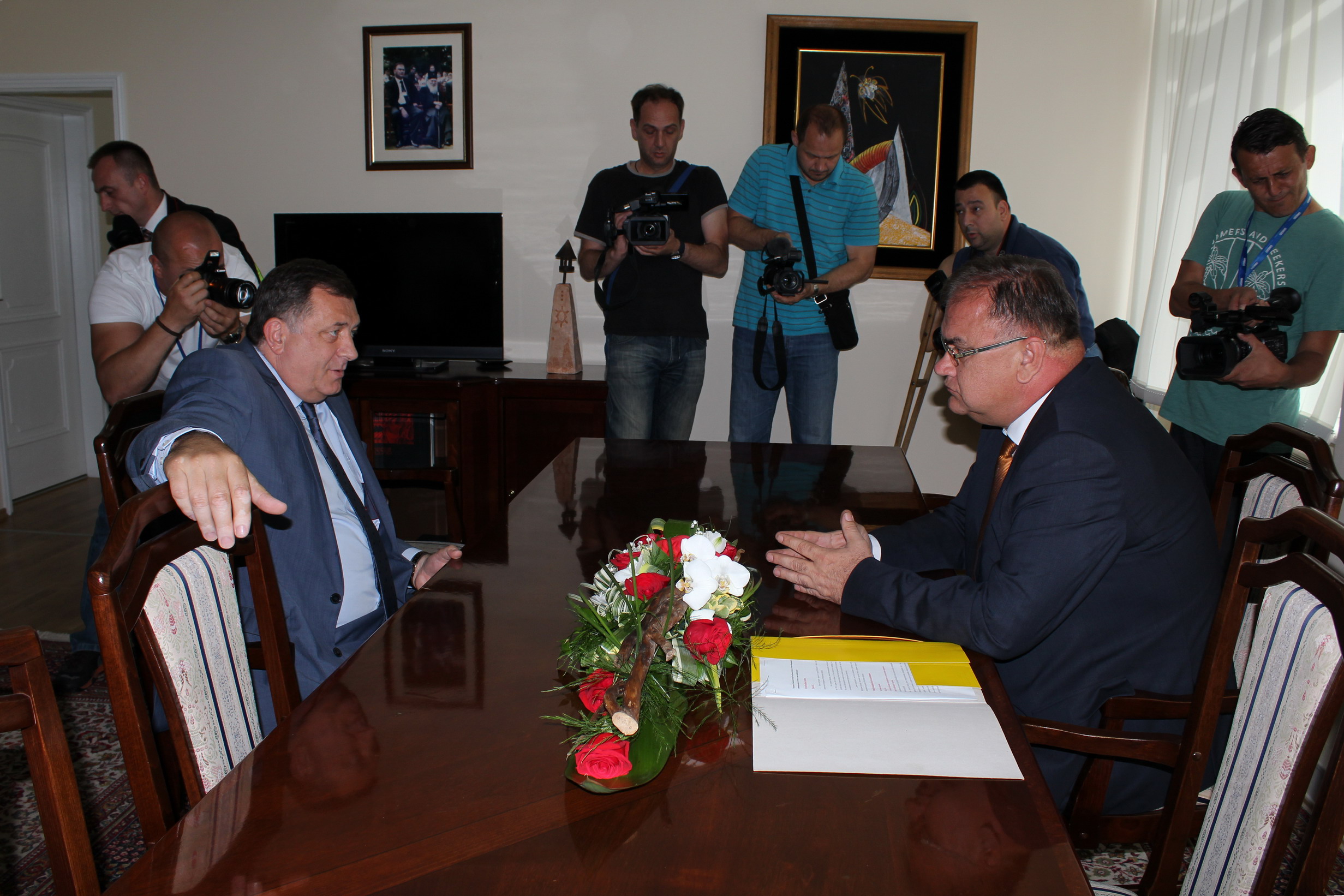 Banja Luka, June 2, 2016/Independent Balkan News Agency
By Mladen Dragojlovic
Despite the fact that the offices of RS President, Milorad Dodik, and member of BiH Presidency from RS, Mladen Ivanic, are just a hundred meters apart, their meetings are so rare that when they occur they attract the biggest media attention. However, the real news is that this time they have the same position on the census and the problems regarding the publishing of its results.
The two highest political representatives of Serb people in BiH, Dodik and Ivanic, agreed that the disputed almost 200,000 who have addresses in BiH but do not actually live in the state, cannot be a part of the census results and their names must be dropped. However, this is against the decision of State Statistical Agency, Velimir Jukic, who decided to publish the results with these names included. In this way the results will show wrong data as to the number of citizens who, as Ivanic said on the press conference after meeting, affect several very important laws in BiH. He estimated that, maybe, somebody wants this to happen, in order to request changes in that laws and, as a result, in the BiH Constitution.
Ivanic has said that he will not find the census results valid and acceptable if the defiance and the attempts of outvoting RS voice in joint state institutions continue.
"Our joint position is that, if the issues are not brought back to the competent institutions, our representatives in the statistical institutions should not give legitimacy to such census results with their presence", Ivanic told reporters in Banja Luka.
He added that there are information that Jukic, before he announced the decision, was invited in BiH Prosecute Office. After this visit, he decided to publish the results with the disputed citizens included. This information was confirmed by Dodik as well. He said to reporters that "clear information shows that director Jukic was at the BiH Prosecutor's Office only an hour before the said decision was made, came back in fear and announced the decision that was not harmonized". Dodik also said that the decision is a red line which RS will not cross.
He has announced that in a few days, when he sees how things related to this issue will be unfolding, he will issue an order to the RS Statistics Institute to cease communications with statistical organisations in BiH.
Dodik repeated that 196,000 persons cannot enter into any statistical number in BiH and RS doesn't agree with that now and never will.
"It is obvious that census related malversation, known in the course of census, has now come to light", Dodik said.
As their common opinion was published in the Media, it was supported by RS opposition leaders, Mladen Bosic from SDS, Branislav Borenovic from PDP and Dragan Cavic from NDP. In their statements they emphasized that it is not good for anybody in BiH to play games in this case and that census results must be published without the disputed citizens. Borenovic demands the special session of RS National Assembly and Cavic suggested that it will be good if RS Statistical Institute withdrew the census material for this entity. Sudden support came also from Dragan Covic, member of BiH Presidency from Croat people, and leader of HDZ, the party where Jukic is also a member. Covic said in Sarajevo that Jukic's decision is "a mistake which must be fixed" and that Jukic announced his decision after days of long pressure from Bosniak representatives in BiH Council of Ministers and other joint BiH institutions.