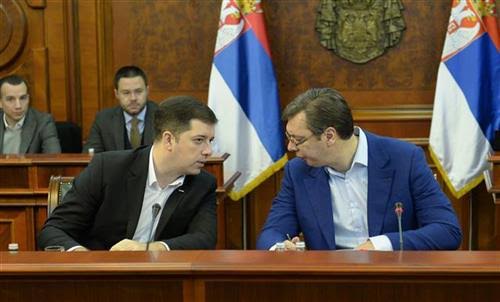 The Serb PM, Aleksandar Vucic has not welcomed the divisions which have recently occurred within the Serb List in the Parliament of Kosovo.
To address these issues, he has invited all Serb MPs in the parliament of Kosovo in a meeting held in Belgrade, demanding them to follow Belgrade's agenda as far as the rights of the Serb citizens in Kosovo are concerned.
After this meeting, the head of the so called Serb office for Kosovo, Marko Djuric, unveiled the demands of the Serb PM Vucic addressed to the representatives of the Serb List in Kosovo.
"PM Vucic demanded Serb representatives in Kosovo to withdraw all decisions that are damaging until 31 December if they wish to participate in what is considered  to be a joint policy of the Serbs and Serbia in Kosovo", Djuric said.
"All decisions of the Serbs in Kosovo and Metohia must be taken unanimously with consensus", he said.
He also demanded the removal of the new minister of Administration and Local Government, Mirjana Jevtic.
The return of Serb List MPs in the parliament of Kosovo and the removal of Ljubomir Maric from the post of minister of Administration and Local Government and his replacement by Mirjana Jevtic, has revealed divisions within this list. /balkaneu.com/