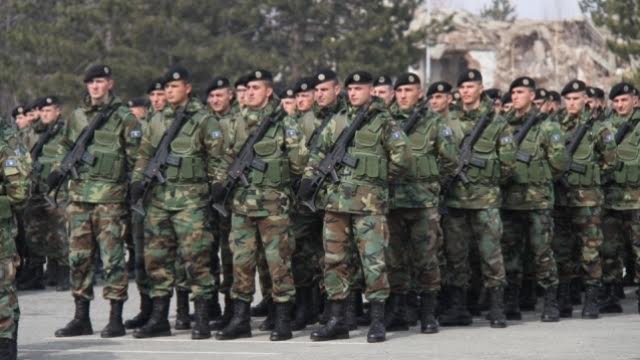 Pristina, 19 June 2015/ Independent Balkan News Agency
By Elton Tota
The voting of the Kosovo Armed Forces in Parliament is being impeded by minority MPs of the Serb List.
Representatives of the Serb List warn that they will not vote the bill for the Armed Forces of Kosovo (AFK), which the government has sent to parliament.
Deputy PM of Kosovo, Branimir Stojanovic says that the positioning of the Serb List is clear and that this party will not vote in favor of the Armed Forces of Kosovo.
According to him, this political force will not vote in favor of AFK, even if this is conditioned with the creation of the Special Tribunal.
"Our position is clear. We don't want a Serb battalion inside of this army. Nobody can put pressure on us to convince us into voting Kosovo's Army even if we vote in favor of the Special Tribunal", Stojanovic says.
Under these circumstances, it's still unclear when parliament will vote the bill that changes Kosovo Security Forces into Armed Forces of Kosovo.
Members of the Parliamentary Security Committee have different opinions on this.
AAK lawmaker, Daut Haradinaj says that the committee has been long waiting to receive the bill with the constitutional amendments which relates to the Armed Forces.
Haradinaj says that such thing is not likely to take place soon with the Serb list imposing conditions that are unacceptable for the Kosovo side.
According to Haradinaj, this delay in the creation of AFK is a result of the lack of political will.
Rexhep Selimi MP, member of the security committee, says that the Serb List cannot be waited indefinitely.
According to him, the demand of the Serb List for a Serb military battalion inside of AFK, is absurd.
"The creation of Kosovo Armed Forces is being threatened by the Serb List veto. The agreement reached between government of Kosovo and that of Serbia, divides Kosovo Police on ethnic basis. The same model is being attempted to be applied on the Armed Forces of Kosovo too", he said.
Representatives of the parliamentary committee for security say that no bargaining will be allowed to be made with the Armed Forces. /ibna/