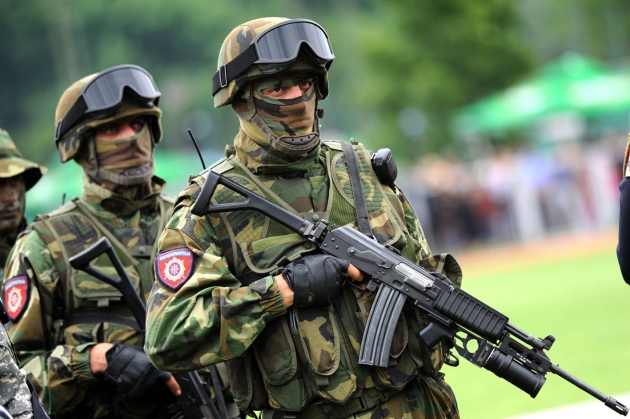 Serb special police forces have been seen entering the village of Karaceva on Tuesday afternoon. The reeve of the village, Selver lenjani said that KFOR is aware of this
Pristina, April 29, 2014/Independent Balkan News Agency
By Elton Tota
Serb gendarmerie forces continue to provoke. They have entered on Tuesday within the territory of Kosovo, namely in the village of Karaceva.
The reeve of the village, Selver Lenjani says that the residents feel unsafe, because this afternoon, members of the Serb gendarmerie have entered the place called "Uji Cesmes".
According to Lenjani, KFOR has also been informed on this.
"I have said this before that prime minister Hashim Thaci must come to Karaceva to take a photo of himself here. We're part of Kosovo and we deserve an institutional treatment, because this is the place where Kosovo is protected and not in Kamenica like someone might claim", said Lenjani, saddened about the fact that no senior government official has not visited this part of the country.
He said that Serb gendarmerie continues to be concentrated in the area of Ugar, "Stani i Malushit", "Guri i Bardhe", Roga, Cuka and cemeteries of Spahovica.
"These 6 points continue to remain a permanent problem and we ask from the government of Kosovo and NATO command to use their authority and remove this permanent danger once and for all", added Lenjani.
The imam of the village of Upper Karaceva, Bujar Feha is also concerned about this.
"Our institutions must seriously reflect on the problem of Karaceva, because it's not only us, as residents of a border village who are being insulted, but the entire diplomacy of Kosovo is being insulted", said Fera.
In the past three or four years, in several occasions, members of the Serb gendarmerie have entered the territory of Kosovo by intimidating local residents in border areas. /ibna/