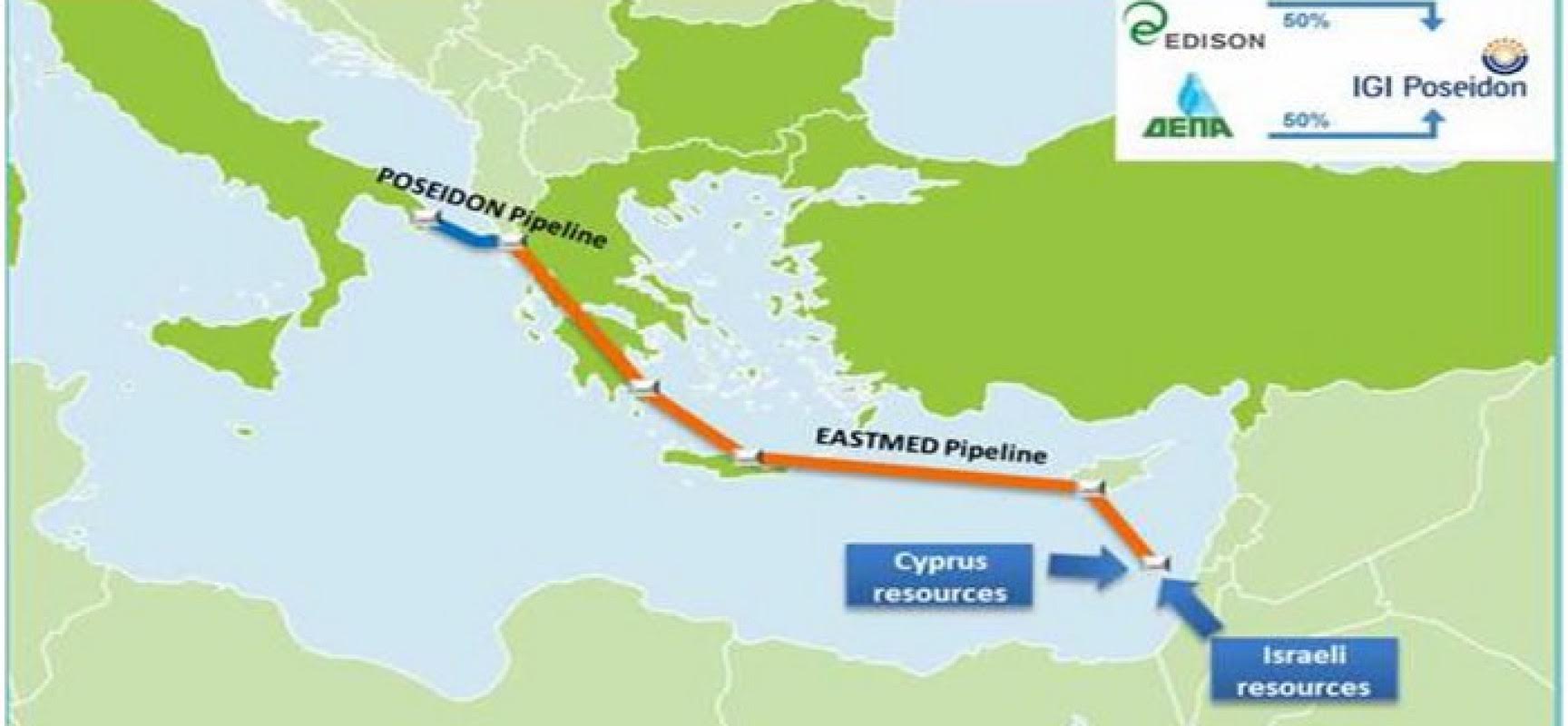 Greece, Cyprus, Italy and Israel joined forces in Athens to further strengthen their co-operation linked with the Eastern Mediterranean Pipeline (EastMed) pipeline.
The Greek Ministry of Environment and Energy said the meetings that took place at a technical level in the Greek capital during the week with the participation of representatives of the four countries, to promote the construction of the gas pipeline, are of decisive importance.
During the meetings, the draft intergovernmental agreement of the four countries, which is expected to be signed in the coming period, was considered in order to proceed with the implementation of this "emblematic energy project" that will unite Israel and Cyprus with Greece and the rest of Europe. In particular, Eastern Mediterranean gas will be directed underwater to Cyprus, then to the coasts of Crete, and then via the Peloponnese and Western Greece to Italy.
The EastMed pipeline has been included in the EU's Projects of Common Interest (PCIs) in 2013 and supported by the Greek IGI Poseidon S.A., a subsidiary of DEPA S.A., and the Italian Edison International Holding (100% Edison S.p.A.). The projected capacity of the EastMed pipeline is 10 billion cubic metres of natural gas a year, with the potential to reach 16 billion cubic metres of natural gas.
The next meeting of special importance to the course of the project was set for September in Israel to continue work "in the same constructive spirit". The goal is to sign the final agreement for the East Med pipeline at the highest level between Greece, Cyprus, Italy and Israel in the near future.
The head of Turkish Cypriot community, Mustafa Akinci as well as Turkey have been opposed to the  implementation of the EastMed pipeline, noting that "this project will not contribute to peace and stability in the Eastern Mediterranean region", pointing out that the fastest and most profitable a solution to reach the Eastern Mediterranean gas in Europe is through Turkey…  …. / IBNA