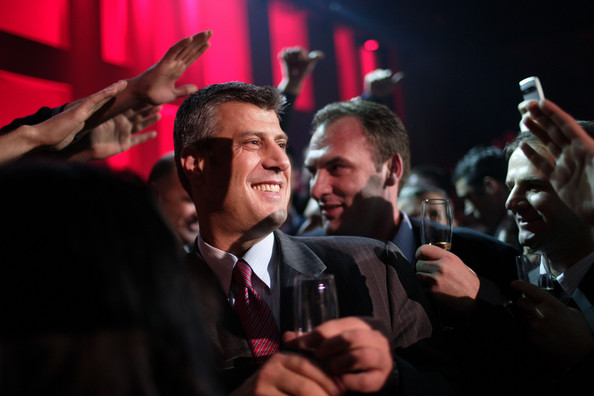 Pristina, February 5, 2014/Balkan Independent News Agency
Fatmir Limaj MP, former Minister of Transports in the government of Kosovo has announced his departure from the Democratic Party of Kosovo (PDK), where he acted as vice chairman, to join the ranks of the opposition.
Fatmir Limaj declares that along with speaker of parliament, Jakup Krasniqi, he will come out with a new political offer.
"I no longer know this PDK. We will soon come out with a new offer, with a new political subject. We have been working on field for 6 months. The people have asked this to us. There are hundreds of people who have waited such thing. I'd like to express my gratitude for all committed supporters of PDK and I say to them that we had no other solution. Look back and you will see that we had no other solution. Everything will be made public", said Limaj.
Limaj said that before he decided on his departure, he attempted to change things inside PDK, but according to him, this party is very different to what it was at the beginning.
"I have tried, like all the others, to offer my contribution. I have believed on the principles of PDK, in those principles that we have represented. PDK has undergone many battles and has never been defeated and divided. It has continued its political battles by defending values, until it achieved a victory in 2007. Each one has given his contribution. PDK voters were spiritually tied to this concept. They believed that people who had a long national tradition represented ideals, families that had sacrificed for the country. This is why they have been spiritually tied to PDK", added he.
According to Limaj,the biggest differences started to take shape after the last congress of this political subject. "Since the last congress of PDK, I must say that I no longer seem to know the people representing that party. This party is not like it used to be", declared Mr. Limaj.
Fatmir Limaj, a known former commander of Kosovo's Liberation Army, has been arrested and imprisoned several times in the recent years by EULEX on serious charges. He was released as none of the charges addressed against him could not be proven in the courts of law./ibna/
On the photo, Hashim Thaci on the left, Fatmir Limaj on the right