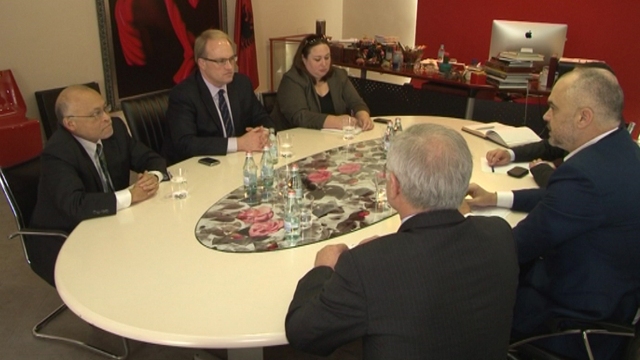 Tirana, May 28, 2013
The Socialist Party has unveiled the content of the meeting taken place between leader, Edi Rama and US Department of State senior official, Jonathan Moore who's on an official visit to Tirana.
During this meeting, Rama thanked the US official about his visit to Tirana, considering it as a sign of  support that the US is offering to Albania and the Albanian people on this decisive moment for democracy and rule of law in the country.
Rama thanked Mr. Moore about the constant  support given by the USA which will contribute for a free and honest electoral process in Albania, stressing the irreplacable role that America is playing in order to strengthen democracy in Albania.
Both interlocutors exchanged opinions about the role, the situation and the functioning of independent institutions which administer the electoral process, including the Central Election Commission.
Amongst others, Rama said that the Socialist Party, as a promotor  of the integration of Albania in the European Union, is ready to vote the legal framework needed for this process.
On his part, Moore reconfirmed the constant commitment of the US through its embassy in Tirana and the concrete contribution in terms of human resources and financial support to conduct elections that meet international standards and the domestic legal framework.
Moore said that US is closely following the entire complexity of the electoral process calling for all parties to put the interests of the people above their own and recognize the result of the elections. /ibna/