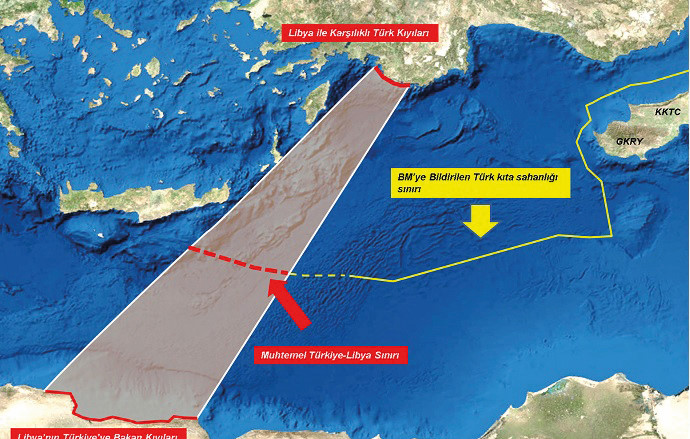 Turkey reinstated the maps with the Libyan-Turkish continental shelf
Ankara seems to reinstate the theory of not taking Kastelorizo into consideration ​​and the non-recognition of the Greek continental shelf between Greece and Cyprus.
The main instigator of this theory is the current rear admiral of the General Staff of Turkey's Navy, Xihat Yayci, who published in 2012 the relevant study on Turkey's EEZ.
However, the same rear admiral, on 21 November, organized a seminar at the "National Defense Academy" of Turkey, formerly known as School of War, on "The Importance of the Seas, the Exclusive Economic Zone and the Problems".
There, Yayci speaking to officers of the Turkish Armed Forces, argued that "Greece is transgressing on Libyan plots in the eastern Mediterranean". The Turkish newspaper Aksam, in its front-page article, says that "Yayci explained that Greece is transgressing the areas of Exclusive Economic Zone in areas where it is raises the tensions". He argued that the 15th plot in the Mediterranean is located on the Turkish continental shelf and the 20th in Libya's. Essentially, with this reference, he does not recognise neither Kastelorizo ​​nor Crete, and reinstates his theory, that the Turkish-EEZ borders that of Libya.
There are many theories and views about the EEZ, and the consensus of coastal states is certainly needed. In this case, however, it seems that the Turkish armed forces, with the seminar and the presentation of the Turkish rear admiral, agree with his views as he presents them to the Academy of National Defense, to students and officers. The publication of Aksam is probably an attempt to communicate Ankara's views.
However, Turkish Defense Minister Hulusi Akar, according to the Yeni Safak daily, on his visit to Libya last month, had presented these maps of Turkey's unified continental shelf with Libya, overlooking the views and potential rights of Greece and Cyprus./IBNA