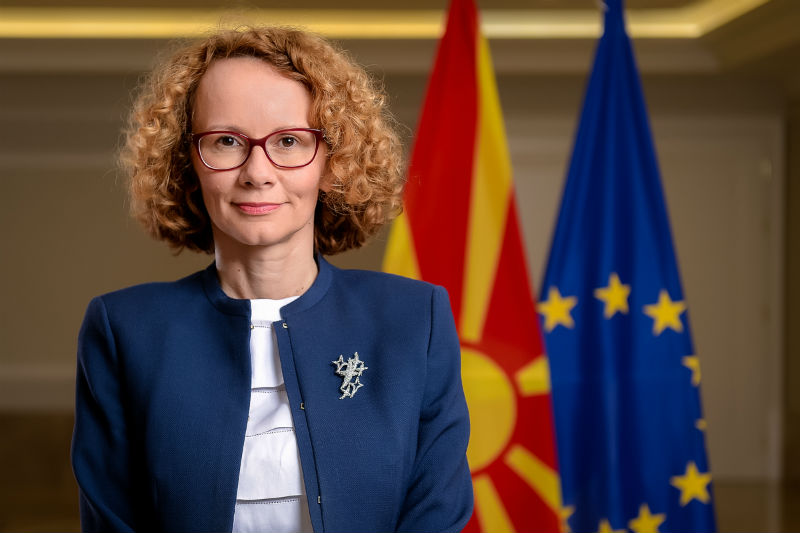 Every person matters and this is most important in the EU integration process, especially for a country of two million citizens. The Government must increase the institutional capacities, but we cannot do this alone, said Vice Premier and Defense Minister Radmila Sekerinska at roundtable "Creating Public Policies in Perspective of European Integration" on Monday.
"We know there is no magic wand or hack code that leads to the start of accession talks. Shortcuts also do not work. We must tread the path if we want to make up for lost time. The challenges of our generation should not be the same with the ones of the coming generations, and that is why we should open the European chapters, but close the chapters of polarization, divisions, conflicts, impunity, captured media," said Sekerinska.
She added that the Government is not focused on lamenting over the past 11 years, but to demonstrate within a relatively short period that there is capacity, political will and maturity in society, expecting a date for the start of EU accession talks and NATO membership invitation in June-July.
"EU Ambassador Samuel Zbogar that the creation of public policies in the integration process should involve all stakeholders from the political and social fields, in order to achieve the common goal.
He voiced hope that the opposition would join this process, in the line of their European reform agenda, where public administration reform is key.
"The European Commission has already said that the conditions set by the previous recommendation for the opening of accession talks are removed, resulting in a clear recommendation. I am looking forward to the EU Council decision by the end of June, because this will be an incentive for the continuation of reforms," said Zbogar.
Minister of Information Society and Administration Damjan Mancevski said there is serious lack of highly-qualified staff in the context of the start of the accession talks.
"We are working together with the Finance Ministry and the Office of the Vice Premier for European Affairs on motivating highly-trained staff that could join institutions from the private, NGO sector. But we will not have the time to fill in all vacancies and therefore we will need a partnership model with the Macedonian civil society sector," added Mancevski.
The roundtable, organized by Foundation Open Society Macedonia and Eurothink-Center for European Strategies, urged for structured dialogue with institutions, but also working with citizens towards understanding the integration process and its benefits./IBNA