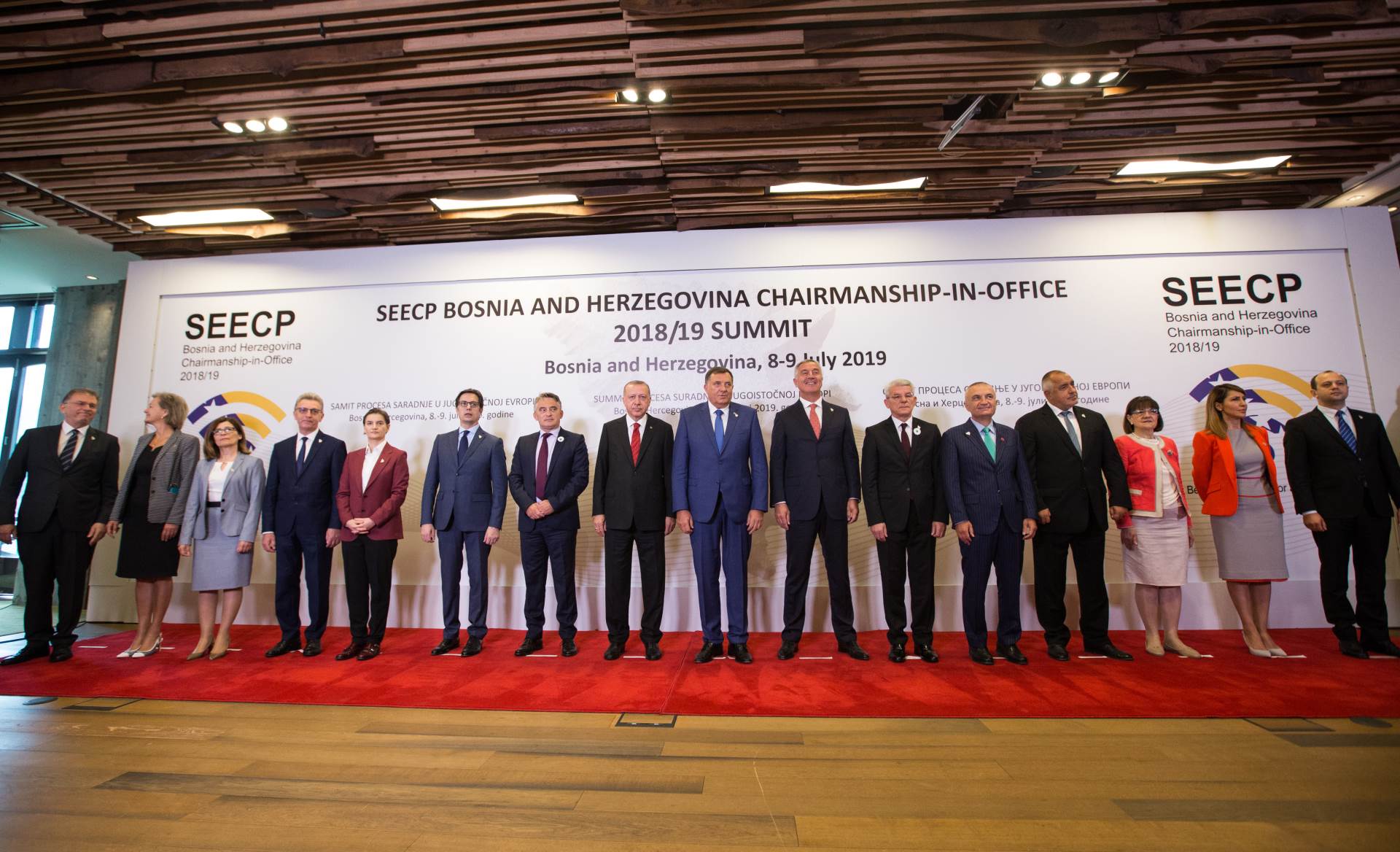 Participants of the South-East European Cooperation Process (SEECP) Summit in Sarajevo, in a joint Declaration, on Tuesday, expressed commitment to further steps and joint activities aimed at improving regional cooperation, economy, infrastructure and support for the region's EU integration.
The declaration was signed by BiH Presidency members Milorad Dodik, Željko Komšić and Šefik Džaferović, Turkish President Recep Tayyip Erdogan, Montenegrin President Milo Đukanović, North Macedonian President Stevo Pendarovski, Albanian President Ilir Meta, Serbian Prime Minister Ana Brnabić, Bulgarian Prime Minister Boyko Borissov, Romanian Research and Innovation Minister Nicolae Hurduc, Croatian Secretary of State Zdravka Bušić, Greek Ambassador to Bosnia and Herzegovina Georgios Iliopoulos, Moldovan Ambassador Oleg Tulea and Slovenian Ambassador to BiH Zorica Bukinac, in the presence of the Secretary-General of the Regional Cooperation Council (RCC) Majlinda Bregu and the Representative of the European External Action Service Angelina Eichhorst.
The Declaration
Reconfirming full dedication to the inclusive regional cooperation and collaboration among SEECP participants as a milestone for developing the stability and prosperity throughout the Region, on the basis of bolstering democracy, human rights and fundamental freedoms, rule of law, mutual understanding and interconnectivity, the participants at the Summit meeting of the South-East European Cooperation Process (SEECP) agreed on the following:
"We firmly believe in the common European future. We are deeply convinced that only full integration of the whole region into the European Union serves the best interest of the Continent," the Declaration said.
Reaffirming the full commitment of SEECP participants for the common future of the region within a unified, democratic and prosperous Europe, the declaration noted that it is essential to maintain the momentum of enlargement and continuous commitment to reforms for the credibility of enlargement policy, based on strict and fair conditionality, regional cooperation and good neighbourly relations and the principle of own merit.
The participants agreed to continue working together in order to effectively face all security threats to the region.
Emphasizing the importance of supporting diversified and sustainable economic growth based on modern technologies, digitalization and structural reforms, the Summit participants agreed that enhancing economic cooperation among SEECP participants as well as between the SEECP economies and the EU is of utmost importance for the economic growth, sustainable development and prosperity of the citizens of South-East Europe.
"The Participants emphasize the great potential that digitalization has for the transformation of their economies and transboundary ties, and thus propose widening the cooperation in this field," the Declaration said.
"The effective and result-oriented cooperation between SEECP participants, the European Union and the Regional Cooperation Council (RSS) has brought about a regional cooperation framework which has achieved concrete results in digital connectivity, mobility of workforce, social inclusion and cohesion, gender mainstreaming, parliamentary and security cooperation," the Declaration noted, adding that the RCC proved to be a relevant catalyst of a plethora of regional initiatives, and the overarching regional organization that is playing a pivotal role in connecting the region with the EU and global economy./ibna