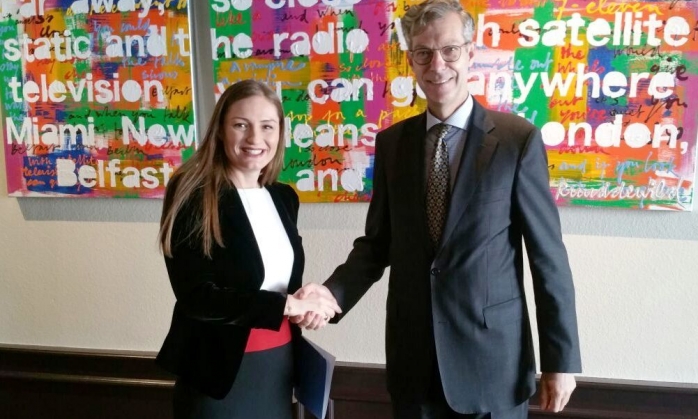 Tirana, 8 July 2016/Independent Balkan News Agency
Minister of European Integration, Klajda Gjosha was in The Hague, Holland, where she had a meeting with Robert De Groot, director for European Integration at the Dutch Foreign Ministry (photo) and Daphne Bergasma, head of Europe's Department at the Ministry of Interior.
Gjosha's agenda comes as an effort to convince EU member countries, in spite of the challenges that Europe is going through today, that Albania is fully engaged to advance with its integration agenda.
"For us, the process has been first of all a big push in consolidating democracy, therefore we are determined to meet our obligations in order to take another step forward. We believe on the transforming power of the European project", minister Gjosha said.
In this meeting, Mr. De Groot said that the best way to advance with the process of integration is through reforms.
Therefore, reform in justice was an important point of discussion during the meeting. The minister briefed Mr. De Groot on the steps that have been taken for this reform, underlining that its approval would give Albania the green light for the opening of negotiations with the European Union.
At the focus of the talks was also the Paris Summit, which led to the approval of several infrastructural projects for Western Balkans.
Minister Gjosha said that the deeper the cooperation between the countries is, the faster the integration path will be.
"Security and stability in Western Balkans is also security for united Europe, where these countries aspire to adhere", minister Gjosha said. /balkaneu.com/