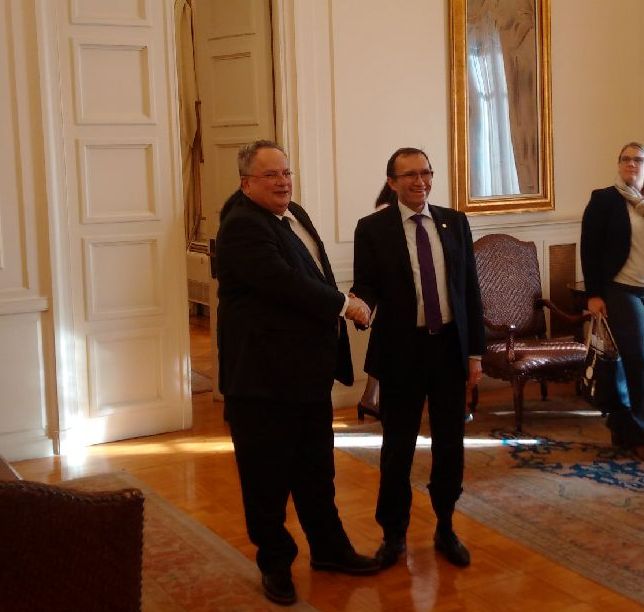 The Greek Foreign Minister Nikos Kotzias and the Special Adviser to the UN Secretary General for Cyprus Espen Barth Eide spoke about the latest developments on the Cyprus problem for more than three hours, during their meeting at the Greek Foreign Ministry.
Mr. Eide who has been in Greece since Thursday noon, as IBNA uncovered first, held meetings with businessman Costas Carras, known for his involvement in the Cyprus problem, the Ambassadors of EU member states in Athens at a inner hosted by the Ambassador of Norway, the Turkish Ambassador and various factors involved in the discussions to resolve the Cyprus problem.
The above choices made by the Special Adviser, were, according to IBNA information, negatively commented upon by the Greek Foreign Minister, who expressed his dissatisfaction, for the violation of protocol during his visit, and for the problems that took place in Geneva that resulted in the attack the Greek Foreign Minister accepted, as the one responsible for interrupting the talks.
Mr. Eide, according to IBNA information explained to Nikos Kotzias that on these trips it is customary there is no "hard" protocol, while he declared the attacks against the Greek Foreign Minister unfair.
The discussion between the two men, was on security, which according to Mr. Eide focused on four issues, the Constitution, the Territorial, Internal and External, while proposals involved the discussions on the four freedoms. According to information from diplomatic sources, there is convergence in the first three areas and the proposals of the Greek side will be passed on to Turkey next week, when there is a scheduled meeting between Espen Barth Eide and the Turkish Foreign Minister Mevlut Cavusoglu.
After the meeting which lasted three and a half hours the Norwegian Adviser of the UN Secretary General made statements to the media.
Eide stated that "the Conference on Cyprus will be reconvened at a political level in March". The Special Adviser did not fail to comment on the recent tensions between Greece and Turkey stating that "we are seeing some complicated tensions in the relationship between Turkey and Greece -that is no secret. This is of course what you can call a background setting that I would rather be without in the process to solve the Cyprus issue", he added.
Eide further stated that his conversations with the Greek Foreign Minister were inspiring and added that  "I bring with me ideas that I will share when I go to see his counterparts in Turkey in a few days"./ΙΒΝΑ