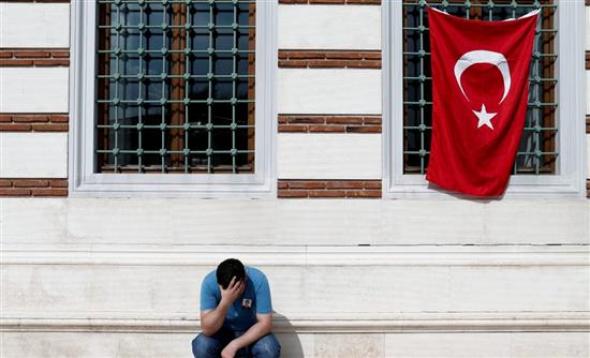 Serious questions remain in the case of the murder of the ambassador of Russia in Ankara, as they were raised by the leader of the Republican People's Party Kemal Kilicdaroglu in his speech to the parliamentary group of the party. "The fact that the killer was a police officer is a serious problem. Also, why didn't they capture him alive but instead opted to kill him. This is another big question to be answered. All the guests had been evacuated. Why did they not arrest him?", Kilicdaroglu wondered.
Without doubt there are visible gaps in Turkey's security, as in the last 18 months there have been 34 terrorist attacks killing 480 people and injuring 2080 more.
Analysts say it is difficult to for the security forces to operate efficiently, given that after the attempted coup against him on July 15, Recep Tayyip Erdogan "tore down" much of the state apparatus with allegations of having affiliations to the terrorist organisation of Fethullah Gulen (FETÖ).
40,832 policemen, soldiers, journalists were arrested, 12,150 policemen were suspended, 102,000 Turkish citizens are being persecuted, while 123,000 civil servants have been laid off.
The Turkish government argues that members of the FETÖ organization are dangerous and says it will continue the war against them, but the fact is that most of those who were fired had been hired during the AKP governance.
The Mayor of Ankara Melih Gokcek, a few hours after the murder of the Russian ambassador hastened to declare that Gulen is behind the assassination. In fact so did the pro-government press. The question raised by the opposition is how can one of Gulen's member be involved in the terrorist attack at a time when 127 journalists have been imprisoned for having ties to terrorism. "Are the arrests being made arbitrarily?", political analysts emphasize.
Another fact is that after so many terrorist attacks, even after the murder of Andrei Karlov, not even one member of the Turkish government has resigned.
Interior Minister Süleyman Soylu has reported that despite the fact that there have been numerous terrorists attacks, the Turkish police "has prevented 258 terrorist attacks in 2016". This statement was meant to be reassuring regarding the efficiency of the security forces, but at the same time it reveals the intense activity of terrorist organizations such as the PKK and the Islamic State in Turkey and causes great concern for the future of the country.
"After the murder of the Russian ambassador the file of the downing of Russian warplane should also be opened, as it appears seems that there are certain parties who are conspiring to harm the Russia-Turkey relations… But I believe that Putin will not find it difficult to understand that a structure which attempted to assassinate the president of Turkey, will not hesitate to kill even the ambassador of Russia", says the political analyst of the newspaper Hürrriyet, Abdülkadir Selvi.
Indeed, the two countries' relations in the short term will not deteriorate, as Moscow, Ankara and Tehran, after the meeting of the Foreign Ministers of the three countries in Moscow, have agreed to work together to define the future of Syria. Common interests brings those countries together, with Erdogan declaring that he will take part in the battles against terrorism, such as the PKK and the Islamic State. Putin appears to trust him at present, despite the fact that just seven months ago he was accusing Turkey of helping the jihadists in Syria./IBNA