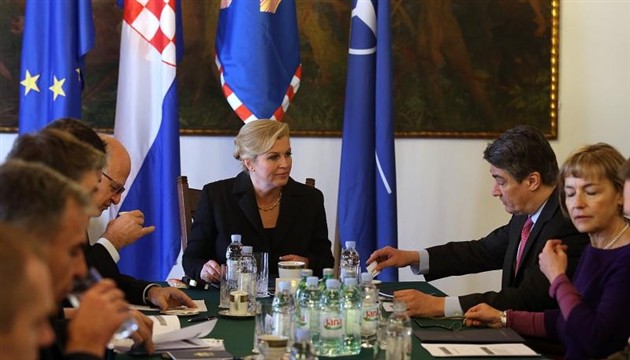 Zagreb, April 7, 2015/ Independent Balkan News Agency
By Marija Avramovic
The National Security Council at its session on Tuesday indicated the need to maintain the established dynamics of the implementation of key projects in equipping and modernisation of the Armed Forces, especially in the modernisation of radar systems for surveillance of maritime areas, and the necessity of making an expert study on models of modernisation of combat components of the Croatian Air Force  during 2015.
At the session, in accordance with the Law on Defence, attended all members of the Council, and the introductory expert presentations were given by Defence Minister Ante Kotromanovic and Commander-in-chief of the Armed Forces Drago Lovric.
The session of the council was jointly convened by the President of the Republic Kolinda Grabar-Kitarovic and Prime Minister Zoran Milanovic.
The council stressed the need to maintain the existing level of the defence budget, which will gradually increase in line with real economic opportunities of Croatia, it was said in a statement after the meeting.
The session was also attended by Finance Minister Boris Lalovac, who confirmed that the discussion revolved around the need for defence budget to stay as it is.
"I hope for further fiscal savings by Ministry of Defence, and we also have an obligation to the NATO alliance that the budget of the said ministry will not be affected", Lalovac said.