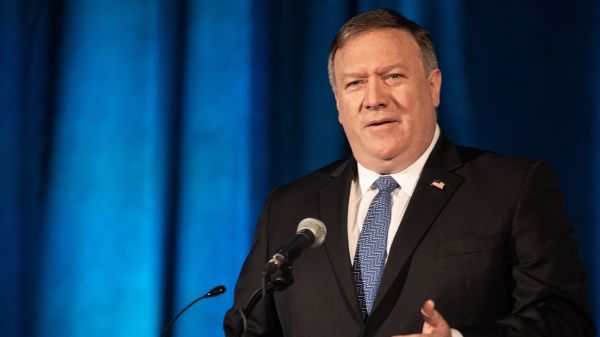 Secretary Mike Pompeo will travel to Athens, Greece from October 4-6, 2019, where he will meet Prime Minister Mitsotakis and members of his cabinet, including Foreign Minister Dendias and Defense Minister Panagiotopoulos, ahead of the 2019 U.S.-Greece Strategic Dialogue on October 7.  The United States and Greece proudly cooperate on defense and security matters, trade, investment, energy, research and business, culture, and the arts.  While in Greece, the Secretary will deliver a speech on the dynamic growth in our relationship.
The U.S.-Greece alliance is moving forward at the top speed
U.S.-Greece relations are at an historic high point. Greece is a vital partner that shares key strategic goals with the United States and is a pillar of stability in the region.
On October 7, 2019, the United States and Greece will convene the second iteration of the U.S.-Greece Strategic Dialogue. At this Dialogue, U.S. leaders will meet with their Greek counterparts to discuss how to further our shared goals, especially in regional cooperation, defense and security, trade and investment, energy, law enforcement and counterterrorism, and people-to-people ties.
The U.S. and Greece are working together in the Eastern Mediterranean to expand regional cooperation, including through the "3+1" grouping with Greece, Cyprus, and Israel. Together the United States and Greece are investing in the future of the Eastern Mediterranean and the Balkans, including by restoring Thessaloniki as a gateway to the Balkans for investment and trade.
Bilateral economic relationship is growing
The United States and Greece enjoy a robust bilateral economic relationship. A strong and prosperous Greece will be a more capable partner for the United States in the Eastern Mediterranean.
The value of two-way trade and services between the United States and Greece reached $2.8 billion in 2018, an increase of more than $490 million, or 21%, from 2017. S. services exports totaled approximately $1.1 billion in 2017, up by $210 million (23%) from 2016.
According to the Department of Commerce's SelectUSA program, U.S. FDI in Greece in 2018 was $1.4 billion, up 16% from 2017.
U.S. investment in Greece is on the rise. Pfizer recently announced it will open a 200-employee research and development facility in Thessaloniki.  Cisco announced that it would invest €10-12 million to develop an innovation center in Thessaloniki, which will develop technologies for smart cities, for their Internet of Things (IoT) network, and special applications for agriculture.
In May, Greece joined the United States and more than thirty other countries in developing the Prague Proposals, which emphasize the need for 5G networks to be constructed based on free and fair competition, transparency, and the rule of law. We encourage Greece to use trustworthy vendors in its 5G supply chain.
U.S.-Greek cooperation promotes peace and stability in the region
U.S.-Greek cooperation on all fronts will enhance Greece's ability to promote peace and stability in the Balkans and Eastern Mediterranean.
We welcome our agreement to update the Mutual Defense Cooperation Agreement (MDCA), which will enable us to expand our bilateral activities at Larissa, Stefanovikio, and Alexandroupoli, and sustain increased activity at Naval Support Activity Souda Bay. The MDCA allows for mutually beneficial infrastructure improvements and supports increased collaboration with Greece and with our NATO Allies.  We also applaud Greece for spending 2 percent of its GDP on defense.
Energy security is foundational to economic security, political security, and sovereignty. Greece is helping to bring new energy sources to Europe via the soon-to-be completed Trans-Adriatic Pipeline.  Over the past year, the volume of liquefied natural gas coming into Greece – including multiple shipments from the United States – has doubled, and LNG will soon replace Russia as the Greece's largest source of gas.  The Interconnector Greece Bulgaria and planned LNG terminal in Alexandroupoli will further this trend.
Americans and Greeks share an enduring bond
The United States and Greece have a robust and growing relationship based on respect for one another's democratic values, standards, and traditions.
Our young people are increasingly studying abroad and strengthening the ties between our two countries. During the 2016 – 2017 academic year, U.S. students who chose Greece for their study abroad program increased by 21.1%, ranking Greece 17th globally for study abroad destinations for U.S. students. Similarly, the number of Greek students who studied in the United States increased 3.3% during the 2017-18 academic year.
Since 1948, more than 5,500 Greeks and Americans have crossed the Atlantic to serve as Fulbright scholars, researchers, students, and teaching fellows./ibna