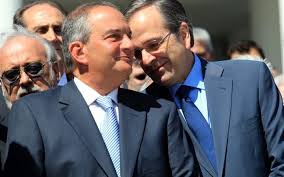 By Spiros Sideris – Athens
A meeting with a "heavy" political agenda, had at noon on Wednesday, Greek Prime Minister Antonis Samaras and Kostas Karamanlis.
The choice of the two sides to meet in a public place, is news in itself, since this is the first meeting that does not take place on the occasion of a party event. Samaras and Karamanlis chatted for about 1.5 hours, at a time when Athens has opened fronts the negotiation with the troika – "the post-Memoradum era", while externally there are at a turning point, given the provocations of Turkey and the open issues on the northern border.
Mostly, though, the two men met on the PM's initiative, after contacts between the two sides amid persistent scenarios both for direct political developments, in terms of the possibility of the House electing a new President of the Republic and the personal political choices of former Prime Minister.
Indicative are the scenarios that have been circulating in recent days, like the one the wants Karamanlis considering not being a parliamentary candidate with ND in the upcoming elections. This information that was published in Sunday's newspapers, however, were refuted by Karamanlis' colleagues, while are also inconsistent with what he allegedly has said to his interlocutors.
Both the Maximos Mansion and the part of Karamanlis have not disclosed the content of their discussion. "Is it news for two friends to talk?", commented associates of the Prime Minister.