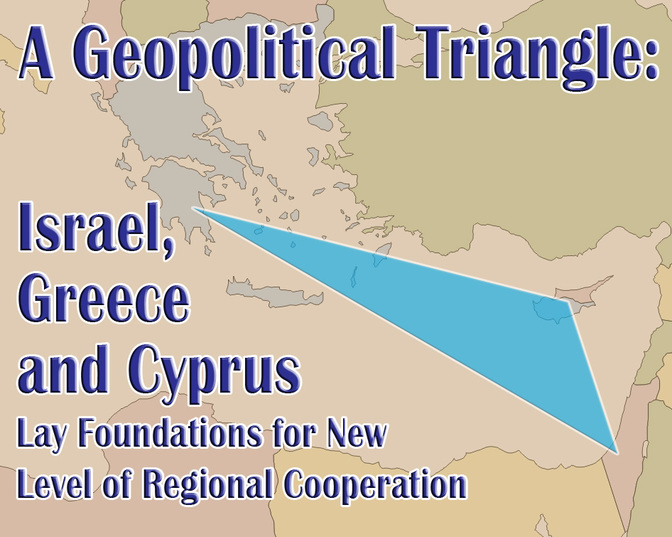 The second Tripartite Meeting of the Parliamentary Committees responsible for Foreign Affairs of Israel, Cyprus and Greece was held yesterday in Jerusalem. The meeting was attended, on behalf of Cyprus, by the Chairman of the Parliamentary Committee on Foreign and European Affairs, Giorgos Lillikas and Committee Members Nicos Tornaritis (Deputy Chairman), Giorgos K. Georgiou, Christiana Erotokritou and Kostis Efstathiou. The Greek delegation was headed by the Chairman of the Standing Committee on National Defence and Foreign Affairs of the Greek Parliament, Konstantinos Douzinas. Heading the Israeli delegation was the Chairman of the Committee on Defence and Foreign Affairs of the Knesset, Avi Dichter.
The meeting was addressed by the Knesset President, Mr Yuli-Yoel Edelstein. Welcoming the attending MPs, Edelstein underscored the significance of the trilateral parliamentary cooperation, saying that he was looking forward to the next Meeting of the Presidents of the three countries' Parliaments, to be hosted by the House of Representatives of the Republic in Lefkosia this coming Fall.
On behalf of the Cypriot delegation, Lillikas noted the significance of the institutionalized framework of trilateral relations between Cyprus, Greece and Israel, on the basis of mutual principles and objectives, and of the further promotion of the aforesaid cooperation in areas of mutual interest. He also underlined the significant contribution of the Parliaments of Cyprus, Greece and Israel to the promotion and implementation of the objectives set by the leaders of the three countries, within the framework of the trilateral cooperation, taking advantage of the possibilities offered by parliamentary diplomacy.
Moreover, during a discussion on regional matters that took place between the three delegations, the Cypriot MPs made reference to the Cyprus problem, as a problem of invasion, continued occupation of the territory of the Republic of Cyprus and continued colonization of the occupied areas with Turkish settlers. Noting Turkey's intransigence at the negotiating table, the Cypriot MPs said the Turkish demand that the four freedoms bestowed by the EU acquis be applied to 80 million Turkish citizens, cannot be accepted as it contradicts European law and carries serious, demographic, economic and geopolitical risks for Cyprus and the EU, and even for neighbouring countries of the wider region. They also noted the increasing threats and hostile acts by Turkey, which, as they ascertained, aim at questioning the Republic of Cyprus' sovereign rights within its Exclusive Economic Zone, in violation of international law.
The Cypriot parliamentary delegation also stressed Cyprus' important role as a bridge between the EU and the countries of the region, as well as a bridge between those countries themselves due to its very good relations with Israel and the Arab states. Along those lines, they stated Cyprus' readiness to provide every possible assistance, as it has done so in the past whenever requested, towards the resolution of the Middle Eastern issue, in accordance with international law, by facilitating the dialogue between the parties.
In addition, during discussions regarding the trilateral cooperation in the energy sector, the Cypriot MPs said it was imperative that this cooperation be governed by the principles of international law, mutual respect, reciprocity and understanding, as threats against one country could potentially result in instability across the region./IBNA