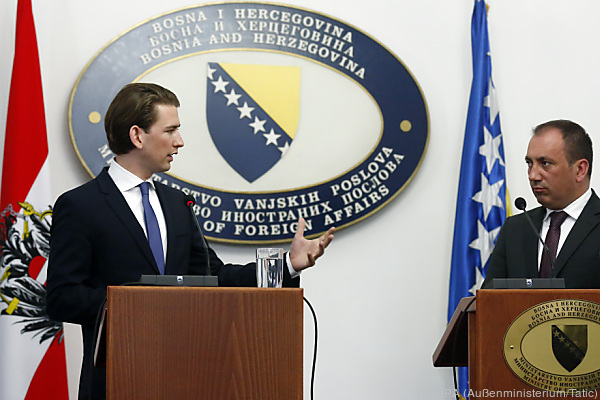 Sarajevo, June 18, 2015/ Independent Balkan News Agency
By Mladen Dragojlovic
Austrian Minister of foreign affairs, Sebastian Kurz, visited Sarajevo on Thursday and met with the highest BiH officials to discuss several issues important for the furthering of relations both between the two countries and between BiH and EU.
On the press conference after meeting with his host, BiH Minister of foreign affairs Igor Crnadak, Kurz stressed that it is very important BiH to stand against the radicalization of various groups which lead to terrorism, adding that he is convinced the peaceful coexistence of different religions is a plausible reality.
"The fact is that today we live on the basis of the experience with the terror of the 'Islamic state' and that, in such a situations, misuse of religion occurs. More than 5,000 people in Europe allowed to be radicalized and to engage in terrorist activities", Kurtz told reporters.
He stressed that the radicalization that leads to terror is very dangerous and it is very important to confront the phenomenon. Kurz also said that Europe wants to have an Islam with European characteristics and an "Islam aligned with the European nature".
"This is the experience we have with Islam in BiH. I am happy to say that the country can fight radicalism with full power and to confront terror and violence. That is why it is important to stress that coexistence of various religions is possible. We have to fight terrorism for a better coexistence in the future, Kurz stressed.
He also said that his country support BiH on its way to the EU, especially regarding new initiatives that are focused on economic and social issues. As he said, news from BiH in the last several weeks didn't "bring joy", and that it is necessary that BiH implements the EU agenda as soon as possible, so that the country continues on its path to European integration.
Answering the journalist question on the new Srebrenica Resolution, Kurz said that it is necessary to face historical events and experiences.
"It is necessary to look in the past but focus must be on reconciliation", Kurz said.
BiH Minister of foreign affairs, Igor Crnadak, expressed on the press conference his hope that reforms agenda will be adopted in BiH institutions soon and that the country will continue to work on changes of laws and implementation of reforms. Crnadak stressed that Austria has an important role in supporting BiH towards achieving this objective.
During his visit, Kurz also met with Croatian member of BiH Presidency, Dragan Covic, to discuss political relations between Austria and BiH. As it is announced from the Covic cabinet, they concluded that it is possible to improve economic cooperation between the two countries and that it is essential that BiH work to improve the investment climate in the country.
photo: www.salzburg24