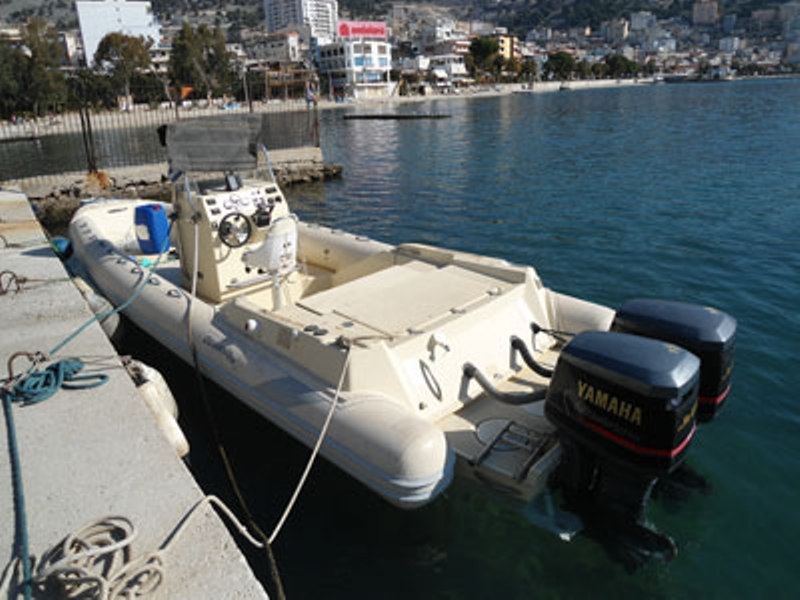 IBNA Special Report/ Moratorium of vessels has not been renewed. The government believes that the best way to control sailing at sea, especially for tourist and leisure purposes is discipline. IBNA hears from the minister of Interior, Saimir Tahiri, former minister of Environment, Fatmir Mediu, Spartak Braho MP, a former trafficker and an owner of several boats in the south of Albania
By Edison Kurani
A debate has been provoked in Albania in relation to the use of sailing vessels in the Albanian sea waters. It's been 10 years that a moratorium has prohibited every motorboat to move in sea waters, in an attempt to stop all unlawful traffics. Officially, all vessels have been forbidden to sail, except for international transport ships used for goods and passengers.
This moratorium has ran out and the current government has not renewed it by saying that it didn't offer a solution to traffics. Minister of Interior, Saimir Tahiri says that the government has another plan to control motor boats. According to him, the best way to discipline sailing at sea, especially for tourist and sportive purposes is to sanction abuses with the sea waters.
For this purpose, the government has prepared a bill. Mr. Tahiri says that a reform will take place, but due to the tourist season which is approaching, it will be carried out on a later period.
"It's necessary to take measures in order to secure the life of holidaymakers, to offer more quality in the use of the sea and beaches, to regulate the chaotic use of waters and sea, especially during the tourist season when the beach and sea are used massively and also to prevent and fight traffic of humans and narcotic substances through the sea", says Tahiri.
Tahiri also points out that: "It often happens when we're witnesses of fatal cases which relate to the use of the sea, where holiday makers are victims or are harmed as a result of the misuse of sailing vessels or cases when sailing vessels are used for the illegal trafficking".
But Fatmir Mediu MP believes that the moratorium has functioned.
He addresses a question to Mr. Tahiri: "Does the ministry have information as to the level of the traffic of narcotic substances during the time when the moratorium has been in force and after its deadline expired?"
Mr. Tahiri insists that statistics show that the moratorium has not had an impact to lower the intensity of traffic of human beings or the traffic of drugs. "Before and during its existence, the moratorium has not had any effects", says he.
With these changes on the law, the government is aiming to register all motor vessels and oblige them to be equipped with a GPS system.
Tahiri says that this aspect helps in two aspects: Assistance for localization in case of danger of the vessel and the people on it and on the other hand, this will keep these vessels under control in order to stop illegal traffics.
As far as the first aspect is concerned, fishermen see it as a positive thing. Some of them who talked to IBNA in the port of Durres said: "A while ago, two of our colleagues were lost at sea with their small fishing vessel. We looked for them for two days, but couldn't find them. We received no signal from them. A ferry found them by chance and rescued them".
Spartak Braho MP says that the changes in the law are necessary. "I believe that time has come for the law on sailing vessels to undergo the amendments that have been proposed".
But, Braho MP says that such incentives are not complete. "Ministry of Interior must bring as soon as possible a completed bill bearing in mind new developments in this kind of activity", says Mr. Braho
The dual truth of the anti-vessel moratorium
When the government of prime minister Sali Berisha decided to impose a moratorium against motor boats, the country was still in shock following a tragedy involving illegal emigrants. Some tens of Albanians disappeared in the waters of Otranto when a small ship with illegal emigrants traveling to Italy, capsized. Their bodies were never found. They had paid amounts ranging from 500 to 1000 USD to illegally cross the sea borders, in search of a better life.
In an effort to stop the traffic of human beings, the government announced a moratorium against vessels, which aimed at also fighting drug trafficking.
But has this moratorium functioned? There's a dual truth. On one hand, there were no more tragic cases with illegal emigrants.
On the other hand, drug trafficking has continued. Of course, the intensity has not been the same as in the period from 1997 until 2004, but on a regular basis, vessels loaded with narcotic substances sailed from the Albanian coasts to Italy and Greece.
In Vlora, people who wish to remain anonymous told IBNA that trafficking with motorboats continues as normal. "Motorboats leave during the night from the Forest of Soda. In most cases they're loaded with narcotic substances and sometimes with Albanians who are refused entry in the Schengen area. In other cases with women who go to Italy to work as prostitutes. It's not that it's the same intensity as 15 years ago, but every once in a while, yes", says for IBNA a 42 year old from Vlora who knows this dark side of the city.
Motor boat owners: Tourism was destroyed
Majority of motor boat owners, who used to work a lot up until the end of the '90s with the traffic of emigrants and drugs, have bid farewell to all kinds of traffics in the last 10 years.
In the south of the country, there are a lot of motorboats, but they do not serve for the traffic of drugs or people.
The majority of the owners of these vessels have legitimate intentions: "I have three motorboats. We have Italians, but Greek too who want to go out at sea. They also want to see islands and bays, especially the ones which have previously served as military basis", says a 48 year old from Vlora who doesn't want to be identified.
The 48 year old says that he works illegally and he's obliged to bribe some official every once in a while. "It's been several years that I do this job. We bribe some official who closes his eyes and we work. In my opinion, this moratorium has done us a lot of harm, because those who deal into traffic of drugs or people, find other ways to work". /ibna/