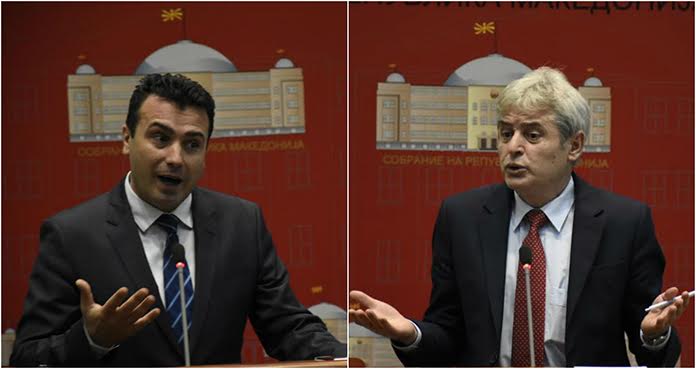 BDI's steering committee has given the green light to the proposal on the Albanian language, which is one of the conditions for the creation of the government with SDSM (Macedonian Social Democratic Union). Both parties have exchanged the drafts of this bill and late last evening, BDI decided to accept it.
"We have discussed all the arguments regarding the bill on the Albanian language and at the end, we offered our consent on the bill. This part of the debate has been finalized and as of Friday, we will continue to harmonize other parts of a joint government platform", BDI's spokesman, Bujar Osmani said for IBNA.
The leader of SDSM, Zoran Zaev has demanded the signatures of the 10 MPs of BDI and of other Albanian coalitions in order to receive the mandate for the creation of the government. In case this agreement is reached, SDSM, which has 49 seats will form a government along with the 10 MPs of BDI, 5 MPs of BESA Movement and three MPs of the Alliance for Albanians.
Last night, the leader of VMRO-DPMNE, Nikola Gruevski has criticized the talks being held between SDSM and Albanian parties, considering them as attempts to "redefine Macedonia as a state and undermine ethnic Macedonians".
Gruevski has also addressed accusations against the social democrat leader, Zoran Zaev of giving up "national and state interests" and submitting to the demands of Albanains.
"We're seeing an attempt of SDSM and BDI to undermine Macedonians and other ethnic communities. We're seeing how SDSM is racing to make as many concessions as possible to Albanians. How long will this last? Until there is nothing else to concede or until the day we lose what we have achieved with so much effort", Gruevski said.
Gruevski added that he and his party will defend the state interests in any form possible.
But SDSM has reacted against Gruevski's declarations, stressing that the next government will belong to all the citizens and there will be no divisions.
"Citizens chose justice and with this, they have protected the interests of their children who live in modern, stable and safe Macedonia. All the citizens know that Nikola Gruevski is doing everything he can to damage the state in an attempt to save himself", says SDSM.
Until the weekend, SDSM and other Albanian parties are expected to harmonize their positions for the creation of the new government. After this, Zaev will demand from the president of the country, George Ivanov the mandate for the creation of the government. /balkaneu.com/