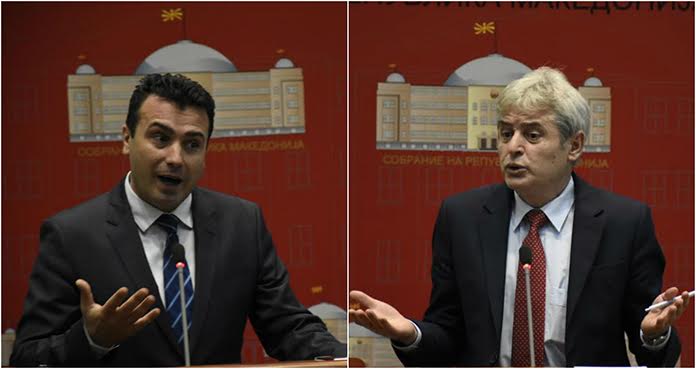 SDSM (Macedonian Social Democratic Union) and BDI (Democratic Union for Integration) are close to forming a new government. The leaders of these two parties, Zoran Zaev and Ali Ahmeti have met last night in Tetovo to harmonize their positions in order to reach an agreement for the formation of the government.
The leader of BDI, Ali Ahmeti said that political parties are seeking a solution which would guarantee political and economic stability of the country.
"With the head of SDSM we have discussed many topics, the differences that exist between us, the Constitution,  the political situation that the country is going through and important issues that relate to the solution of many problems", declared the leader of BDI, Ali Ahmeti after the meeting.
According to him, BDI will decide tonight on the possibility of the creation of the government with the social democrats.
Leader of SDSM, Zoran Zaev declared that the two leaders have agreed on important issues based on the conditions that have been imposed by both sides.
"We are close to reaching an agreement and this is a unique opportunity to remove many prejudices that have existed in 25 years. Ahmeti and I will convey our stances to the groups of experts, in order to facilitate this process", Zaev said.
One of the key points which is preventing the agreement is the proposal on the Albanian language. BDI and other Albanian parties request a wider use of the Albanian language in the country, while SDSM says that the solution must be based on the Constitution. Yesterday, SDSM met with representatives of the Alliance for Albanians, as its three MPs will be decisive for the creation of the government. /balkaneu.com/