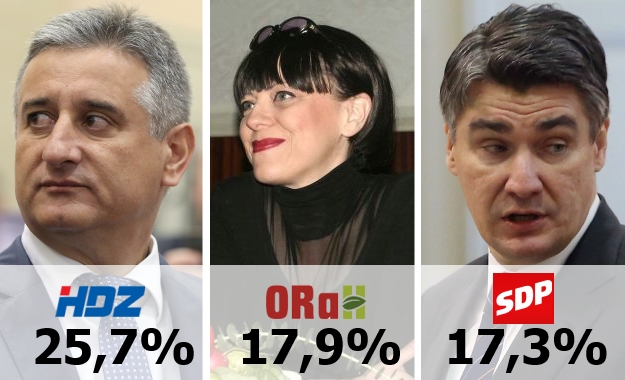 By Marija Avramovic – Zagreb
Croatian Sustainable Development party (OraH), led by an ex member of Social democratic party (SDP) Mirela Holy has surpassed SDP in citizen's vote intention, according to the latest survey of Crobarometer, which was published yesterday by Nova TV.
The survey was conducted during the period September 1-15, with 968 Croatian citizens taking part, and this was the first time in 20 years the ruling SDP was ranked third.
The most popular party is still the Croatian Democratic Union (HDZ) with 25.7% of support, followed by ORaH (17.9%) and SDP (17.3%), while last month ORaH had the support of just 15% voters.
Crobarometer also showed that the current president of state Ivo Josipovic enjoy the support of 49% pf the citizens and that his main opponent in the presidential race HDZ's Kolinda Grabar Kitarovic got 38%.
Political analyst Zarko Puhovski said that the results of the pool, according to which ORaH surpassed SDP, were expected but despite all that the SDP government will not collapse.
"In my view, the results to all who follow the situation in the political arena, are as expected because the trends are clearly pointing to it. What seems to me, is that the SDP lost their reputation, guidance and support, they will lose the election, but they cannot lose governance", Puhovski said for news portal Index.
President of  OraH Mirela Holy expressed her satisfaction and some concerns at the same time about the results and indirectly confirmed that she would like to become prime minister, although in some distant future.
Holy said that ORaH could never collaborate with HDZ since programs of these two parties are not the least compatible, nor ORaH could work with SDP, because this party, argued Holy, was not true to its own program.
She personally endorses Josipovic in the campaign for re-election and the party surely would too, she said, if his program would depict the 'fascinating green speech' the president gave earlier this week at the United Nations.
"Surely we are not happy about it. However, if voters elect someone else, it would be better if that was ORaH although my colleague Holly was quite clear she does not want to form a coalition with SDP", a member of SDP Pedja Grbin briefly commented on the survey results.