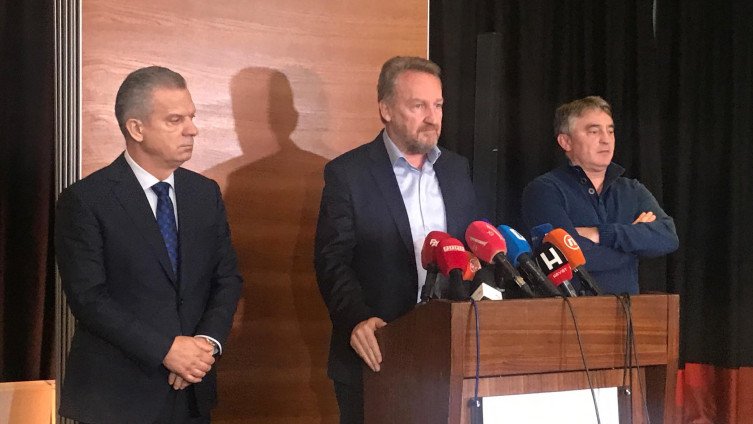 Presidents of the Party of Democratic Action (SDA) Bakir Izetbegović, the Alliance for a Better Future of BiH (SBBBiH), Fahrudin Radončić, and the Democratic Front (DF), Željko Komšić, at today's meeting in Sarajevo reached an agreement on the formation of governments in BiH at different levels.
After the meeting, Izetbegović told reporters that "a coherent coalition, a pro-Bosnian component, from the Federation of BiH to the cantons, including the Sarajevo Canton, the Zenica-Doboj, Herzegovina-Neretva Canton, etc., has finally been constituted".
"When it comes to the level of the Federation of BiH, we have also reached an agreement and we call on Dragan Čović and the HDZ BiH to open the formation process, i.e., the restructuring of the FBiH level of government; to make the first move by appointing the president and two deputy presidents of the FBiH", Izetbegović said.
As for the cantons, he said that they will give a joint proposal for the cantonal prime ministers.
SDA, according to Izetbegović, will take over seven ministerial positions in the Sarajevo Canton, the SBB BiH three and the Democratic Front two ministerial posts. The Assembly Speaker will be from SDA.
Izetbegović stressed that they would pay special attention to the construction of infrastructure in the state and in the Sarajevo Canton, the economic issues, fight against corruption, etc.
"We will do everything to complete the formation of the Council of Ministers of BiH by December 23, so that the Reform Program related to the NATO path of BiH could be sent to Brussels on December 24," said the SDA President.
The Democratic Front leader, Željko Komšić, said this will be a Bosnian coalition.
He also said that the leaders of the three parties have reached an agreement, and he called on the representatives of the HDZ BiH, that is, the president of that party and his associates to start forming the Government of the FBiH as soon as possible, or to nominate a person for president of the FBiH, to begin the whole process of the entity-level government formation.
SBB BiH President Fahrudin Radončić said that today they had very serious and productive talks as a continuation of earlier talks.
"We have agreed to build a strong pro-Bosnian-Herzegovinian and strong Bosniak coalition, at all levels of government – from the state, FBiH level and all the cantons. The division of ministries at the state level remains, we will agree on the FBiH one, although we have a principled agreement for the Sarajevo Canton", Radončić said.
He announced that he would jointly propose candidates for the BiH Council of Ministers on Monday, "because it is a common assessment that it is in BiH's strategic interest to implement the Reform Program as soon as possible".
"As far as the government in the Sarajevo Canton is concerned, we have agreed to dismiss it. A year ago, I publicly announced that SBB, as a coalition partner, is giving the government a year to show what it can do. I am personally not satisfied or impressed with what has been done so far", Radončić said./ibna