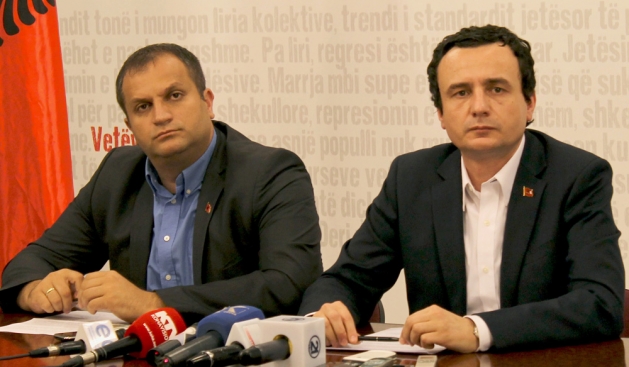 Pristina, June 25, 2013
Self Determination Movement has warned a protest on Thursday in front of parliament, in order to object the ratification of the Brussels agreement. During a press conference delivered today, the leader of this party, Albin Kurti and the vice chairman, Shpend Ahmeti declared that the protest will start on June 27 at 9 am in front of parliament before the start of the session.
"The government of Kosovo is trying to ratify the agreement reached by Thaci and Dacic and perhaps even the Implementation Plan. PDK wants to share responsibility with LDK and AAK and subvert them. Thus, Dacic is using Thaci and the Agreement to take Serbia forward to the EU, while Thaci is using Dacic and the Agreement to control LDK and AAK and for immunity against EULEX", said Kurti.
Kurti has also mentioned the reports of Freedom House which have negatively evaluated Kosovo.
"A government, which has been considered by Freedom House as half–authoritarian, should not speak on our behalf and take decisions for us. Parliament of Kosovo must belong to Kosovo and should show resistance against the government. Thaci and other government people have been involved in corruptive affairs and organized crime. This is a mob like government and this was proved by the registered conversations in the "Pronto" scandal which were made public", added Kurti.
Criticizing point 5 of the agreement, Kurti added that the Association of Communes of Serb majority and its development are becoming a FACT, like the SerbRepublic in Bosnia, while the independence of Kosovo only remains an OPINION like the one of the International Justice Tribunal.
"We will strongly contest the ratification within parliament and outside it", said Kurti. /ibna/