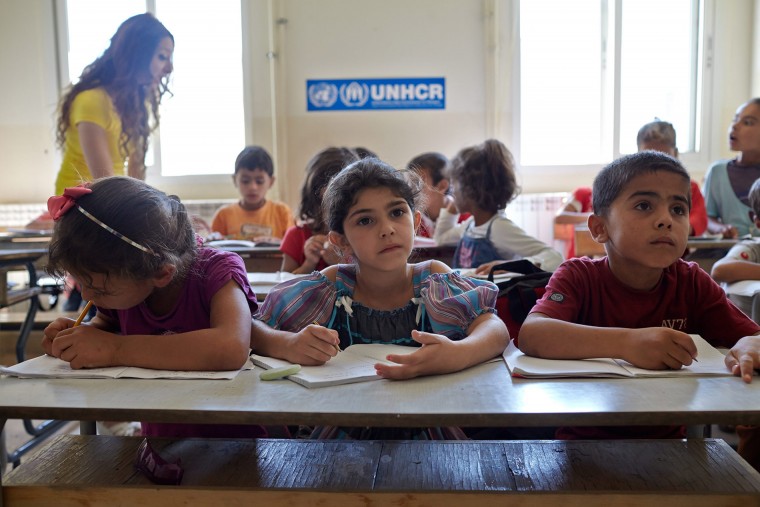 For 1,500 refugee children the first bell rang today at 2 pm, in schools of different regions in Greece. The programme for the children commenced today in the regions of Attica, Central Macedonia and Epirus and in the coming period, will gradually be extended to the whole country.
According to the Ministry of Education, Research and Religious Affairs, from the day the refugees signed on at the Accommodation Centres there was a wave of enthusiasm which culminated today, at the programme's opening day, with a large number of new applications.
The children went to school with buses provided for by the International Organization for Migration, they were given a tour of the classrooms and school buildings and met the teachers, they also received school bags and books.
As the ministry stated in a statement, "with the exception of isolated incidents that tried to create a negative climate but were nipped in the bud on time by the representatives of the ministry, the welcome of the children by Greek students and teachers was enthusiastic."
According to the ministry, teachers, as well as Greek society as a whole responded well to the harmonious integration of refugee children in school.
The Ministry of Education thanked the teachers, the Associations of Parents and Guardians, municipal authorities, numerous student volunteers, but also the relevant Scientific Committee for their contribution to the success of the first school day for the children of the refugees.
According to statements made to the Athens News Agency, Secretary General of the Ministry of Education, Yiannis Pantis said that "The children were transferred to the special school units set up for the Refugee Education and Welcome. Everything went well, except for some isolated incidents at the 66th Athens High school and at the Prophet of Lagkadikia elementary school"
As regards to the response, he said added that, "few people, without solid ground, tried to create a bad situation, but we have nothing further to say on that, we will continue doing what we should be doing, the children are now in the classrooms."
As the vaccination program proceeds children from all accommodation facilities will be placed in schools nationwide./IBNA