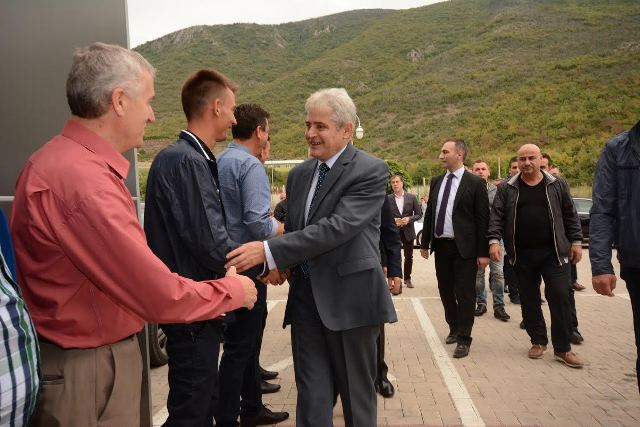 Skopje, 5 October 2015/Independent Balkan News Agency
By Naser Pajaziti
The schism taken place inside of the largest Albanian party in FYR Macedonia BDI (Democratic Union for Integration), has prompted political debates and reactions for the weakening of the Albanian political factor and the risk that there exists for the Albanian votes to be divided in the 24 April 2016 polls.
A new party called "Unity" was promoted on Saturday in Skopje. This political party is made of the founders of BDI, a party which was founded following the 2001 conflict and it was founded by former members of NLA (National Liberation Army).
Gezim Ostreni, as leader of Unity, is an important figure with his background as former chief of staff of NLA.
He has gathered around this party many collaborators and members of BDI, who are unhappy with the policies of this Albanian party, which is been in power since 2002.
Gezim Ostreni declared that the creation of the new Unity party was necessary due to the control that the Macedonian party in power VMRO-DPMNE has over the two main Albanian parties, BDI and PDSH.
But on the other hand, BDI's spokesman, Bujar Osmani declared for IBNA that it's within the right of every citizen or member of this party to form a new political party.
"We cannot prevent any member of BDI, who believes that he can feel more fulfilled in another political party. There are no schisms inside of the BDI, as BDI is more compact than ever. What we may see, though, is a weakening of the Albanian political factor in the elections", Osmani declared.
Political analyst, Ismet Ramadani told IBNA that divisions within BDI and the emergence of a new political party took place as a result of the BDI and Ali Ahmeti, who has so far been inferior against the governing partner, VMRO-DPMNE and Nikola Gruevski.
"As it was expected, a division took place within BDI, due to the fact that the leadership of this party followed a servile like policy, an inferior policy which caused many damages to Albanians, in coalition with Nikola Gruevski and his party. Perhaps, at first glance, it seems that a small fraction is being divided from BDI, but if we look at the personality of Mr. Ostreni, as the closest person to Ali Ahmeti, then I believe that the damage will be great", Ramadani declared.
The new party "Unity" is expected to join new opposition forces to form an opposition block in the Albanian political camp in FYROM. /ibna/