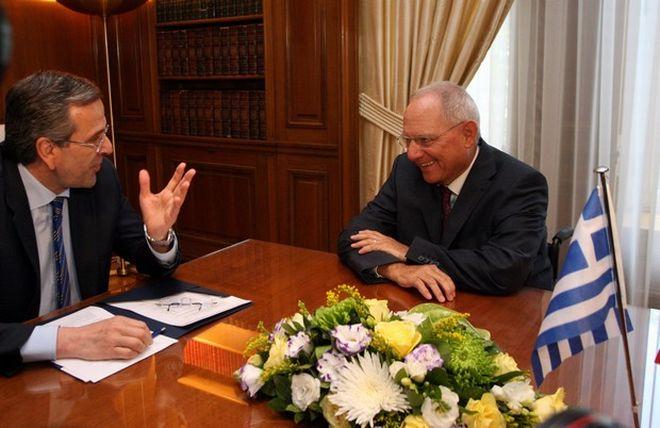 By Lefteris Yallouros – Athens
German Finance Minister Wolfgang Schauble refused talk of a future haircut on Greek debt addressing an audience at the German-Greek Chamber of Industry and Commerce in Athens on Thursday.
Greek police took strict security measures ahead of Mr. Schauble's arrival in Athens Thursday morning as several streets in the Greek capital were blocked off, leading to heavy traffic away from the center and protests were disallowed in the capital.
The measures didn't help the German Finance Minister's popularity amongst Greeks who by and large consider him the "architect" of Greece's economic misery in the last few years.
"Mr. Schäuble, this is your doing: gross domestic product minus 20.5 percent; retail minus 18 percent; construction industry minus 67 percent," read the headline of daily "Eleftherotypia" on Thursday.
The German Finance Minister held meetings with Greek Prime Minister Antonis Samaras and Greek counterpart Yannis Stournaras. He also had a brief meeting with Foreign Minister Evangelos Venizelos.
Schauble praised Greece's progress in combating the debt and economic crisis and showed sympathy for Greeks who, as he acknowledged, are going through tough times.
The German Finance Minister called on Athens to continue the process of privatizating government-owned companies and expressed confidence that the economy will soon begin to grow again. "We are working side by side" toward that goal, he said.
He also announced that Germany would be participating in the formation of an investment fund in Greece and would contribute EUR 100 million towards it, aimed at providing affordable loans to small and medium-sized Greek businesses suffering from a lack of liquidity.
Still, Mr. Schauble did not grant Greece what its government is hoping for more than any other aid; a haircut on the country's debt to the official sector. In fact, he urged Greeks to "stop referring to a possible haircut since such talk isn't in the country's interest". Instead of hoping for debt relief in the form of a haircut, the German Finance Minister said Greece should continue working towards balancing its budget and achieving primary surpluses which could prompt European partners to further support the country in future.