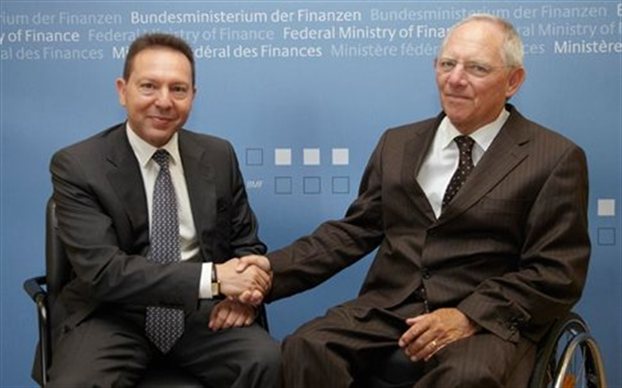 By Christos T. Panagopoulos
A precautionary support plan for Greece will be discussed during German Finance Minister, Wolfgang Schäuble, meeting in Athens with his Greek counterpart, Yannis Stournaras, on Thursday, according to local media reports.
This plan will initially consist of a financial aid of 13 million euros, which is estimated as a surplus from the 50-billion-euros bank recapitalization plan.
The word "precautionary" used by Berlin to name this plan is not random, as it means that the financial aid will be used as a "safety pillow" in case Greece does not succeed in pumping the supplementary capital flows, which are needed by the world markets, until 2014.
However there is a considerable risk factor that should not be underestimated, according to economic experts, as this amount of money might be reduced, if the stress-tests, which will start in the Greek banking system in September, show that the country's financial institutions need more that the 37 million euros having already been consumed from the 50-billion-euros bank recapitalization plan.
Source: In.gr