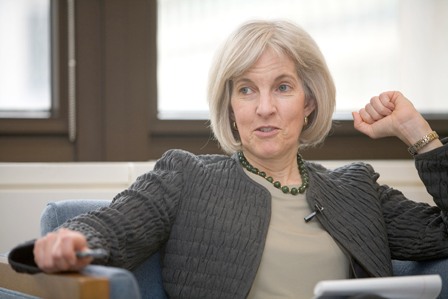 Athens, December 12, 2014/ Independent Balkan News Agency
By Spiros Sideris
"The IMF should have insisted immediately, since the summer of 2010, for Athens to stop serving the old debt and the negotiation with all creditors of a cancellation of debt – and what's more directly", former deputy director of the department of IMF in Europe, Susan Schadler, in an interview with the Austrian newspaper "Kurier".
As she warns emphatically, one should be on guard permanently, as the climate in the markets can be reversed abruptly.
Schadler blames the IMF for succumbing, in 2010, to political pressure and was swept into a program of assistance, abandoning its rules, when everyone knew that the forecasts for Greece were too optimistic.
"What is the point of repaying the big banks and burden the taxpayers?", asks Schadler, adding that a quick remission would have clarified the situation earlier, while the long delay further aggravated the miserable economic situation in Greece, while it became impossible to prevent the transmission of the crisis to other countries in Europe.
Former deputy director of the IMF has, as she says, to this day, doubts about whether Athens will be able to serve the massive debt in the long run, since to do so the country must have high growth rates and surpluses, for many years to come.
And you, as she adds, the partners of the European Union might have responded largely towards Greece on the issue of interest rates, however, Schadler believes that this does not help much, because it is quite clear that these loans will not be repaid in full .