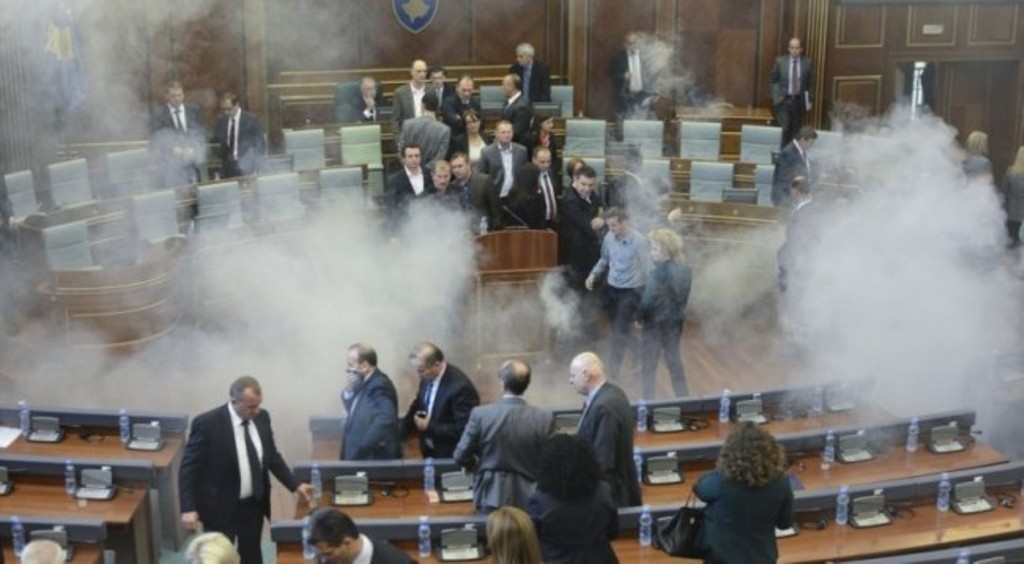 Parliament of Kosovo has convened once again today to vote the demarcation agreement with Montenegro. During the time when the voting was expected to happen, MPs of the Self Determination Movement Party have let off teargas inside the premises.
This political party has brought back the violent episodes in Parliament on the pretext that it is trying to stop an agreement, which according to this party, threatens the state's sovereignty.
This has forced parliamentary speaker Kadri Veseli to adjourn the session until the situation was normalized.
The voting on the issue of demarcation follows the nine hour debate which was held on Tuesday in an extraordinary session, which ended in the early hours of Wednesday.
It still remains to be seen if 2/3 of votes in Parliament have been secured in order to go through the voting of the agreement, which is very important for Kosovo.
Meanwhile, today, representatives of the international community in Kosovo have asked for the ratification of the agreement which enables the liberalization of the visa regime and a better European perspective for Kosovo.
Hahn: Teargas has no room in Parliament
 The European Commissioner on Enlargement, Johannes Hahn has reacted today about the teargas that was let off by Self Determination Party today in the Parliament of Kosovo.
"I strongly condemn the use of teargas. Such behavior has no room in a democracy. On this important day, Kosovo's leaders need to feel responsible and vote the demarcation agreement. The citizens of the country will only see benefits out of this as the visa regime will be lifted", Hahn said.
Currently, parliament is on a pause, due to the fact that Self Determination MPs have let off teargas for a second time. /balkaneu.com/