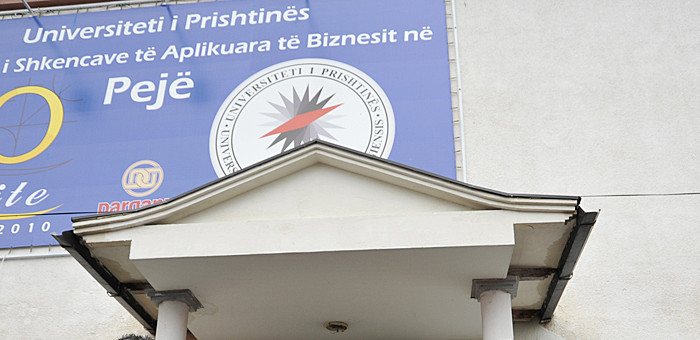 IBNA Special Report
Pristina, March 11, 2015/Independent Balkan News Agency
By Elton Tota
Without ever attending university, 500 Kosovo citizens have been issued with fake diplomas in the Faculty of Business Applied Sciences in Pec from 2000 until 2004.
IBNA news agency has learnt from sources at the Prosecution of First Instance in Pec that among these graduates, there are also people who hold senior state offices and people who work in public and private companies.
The mega scandal involving the University of Pec also includes 13 Albanians from FYR Macedonia.
The dean of the Law Faculty and legal representative of "Haxhi Zeka" Public University in Pec, Kole Krasniqi, says that this case was investigated a while ago, but according to him, numerous obstacles have been caused in order to make this case impossible to be handled as a criminal case. He says that he's surprised about the fact that the Prosecutor has not asked the Ministry of Education to verify the diplomas when they were issued.
Ministry of Education launches an inquiry over the fake diplomas
Minister of Education, Arsim Bajrami has ordered the Education Inspectorate to conduct a special inspection over the legal validity of the diplomas issued to students by the Faculty of Applied Sciences in Pec.
"Given the suspicions relating to the Faculty of Business Applied Sciences in Pec, which has operated in the framework of the University of Pristina and given that this faculty operates in the framework of "Haxhi Zeka" University in Pec, the Education Inspectorate is ordered to prepare all materials and relevant information. In case of identifying violations, the Inspectorate must launch adequate legal procedures. The concerns that have been raised are very serious and they damage the values of higher education in Kosovo", reads the guideline issued by minister Bajrami.
The University of Pristina has also been asked to offer information on all students registered in the Faculty of Business Applied Sciences in Pec for the period from 1999 until 2004.
According to the Ministry of Education, these concerns are very serious and they damage the values of higher education in Kosovo, therefore it's determined to conduct a full inquiry over this case. /ibna/