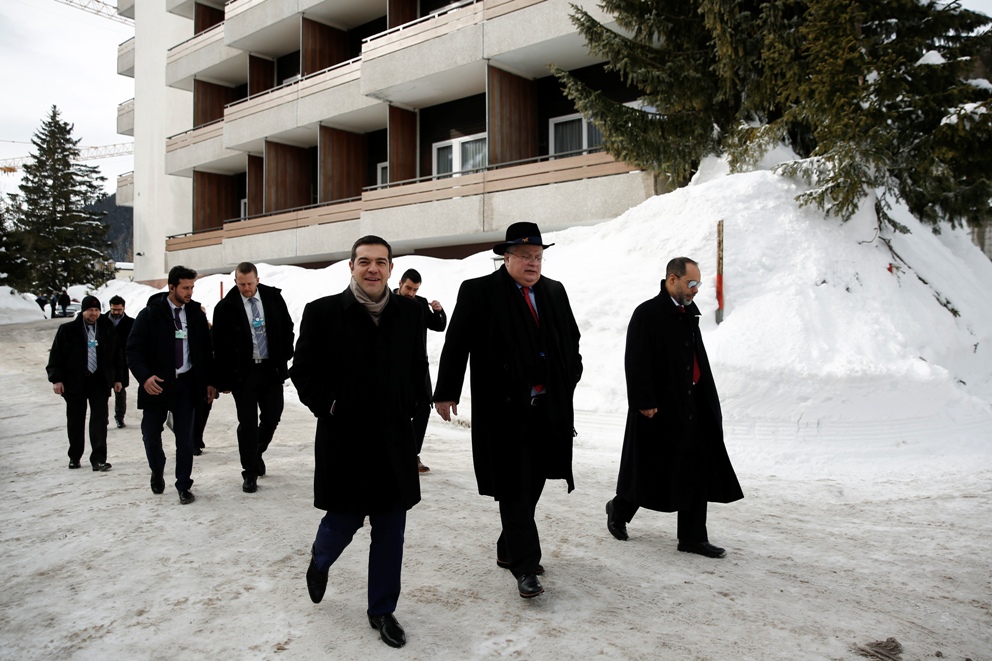 Despite not practically securing real guarantees over the debt issue, Alexis Tsipras will not be leaving snowy Davos unhappy after his three-day stay at the Swiss resort.
In any case, just three days after the conclusion of the third review, it would have been difficult to gain anything more than pleasant words from the IMF managing director Christine Lagarde and European Commissioner Pierre Moscovici, with whom he met. It is well known that these meetings merely provide an outline rather than go into the detail of issues. Besides, more significant developments are expected at the end of February.
Alexis Tsipras should surely be satisfied, however, with the meetings he held with FYROM Prime Minister Zoran Zaev and Albanian counterpart Edi Rama. The two meetings signify the turning of a page for Greece, establishing it as the leading country in the Balkans, through a multidimensional and proactive foreign policy.
Moreover, we must not overlook three other meetings the Greek Prime Minister held: with Croatian Prime Minister Andrej Plenković; the European Commissioner for European Neighborhood Policy & Enlargement Negotiations, Johannes Hahn; and the Deputy Prime Minister of the Russian Federation, Arkady Dvorkovich.
The meetings with the Croatian Prime Minister and the European Commissioner for Enlargement are no coincidence as both are involved in developments in the Balkan Peninsula.
Croatia participates in the informal council of Balkan EU member-states, along with Greece, Bulgaria and Romania, as well as in the Adriatic Ionian initiative and other initiatives in the region too. According to IBNA's exclusive information, the Greek government's desire is to further enhance its relations with Croatia, as the future of the EU and the Western Balkans are issues of common interest for the two countries and were extensively discussed at the by the two prime ministers during their meeting.
Johannes Hahn, for his part, is managing the EU accession of Western Balkan states. A meeting with him, a few weeks before an Informal Summit in Brussels in February where the accession course will be discussed, was deemed necessary. As a major player in the region, Greece is directly interested in developments related to enlargement.
Finally, Alexis Tsipras' meeting with the Deputy Prime Minister of the Russian Federation keeps the channels of communication with the Kremlin open. This is high on the agenda for the Greek government which wants to upgrade its relations with Russia. Therefore, a government delegation could also visit Moscow in the summer./IBNA