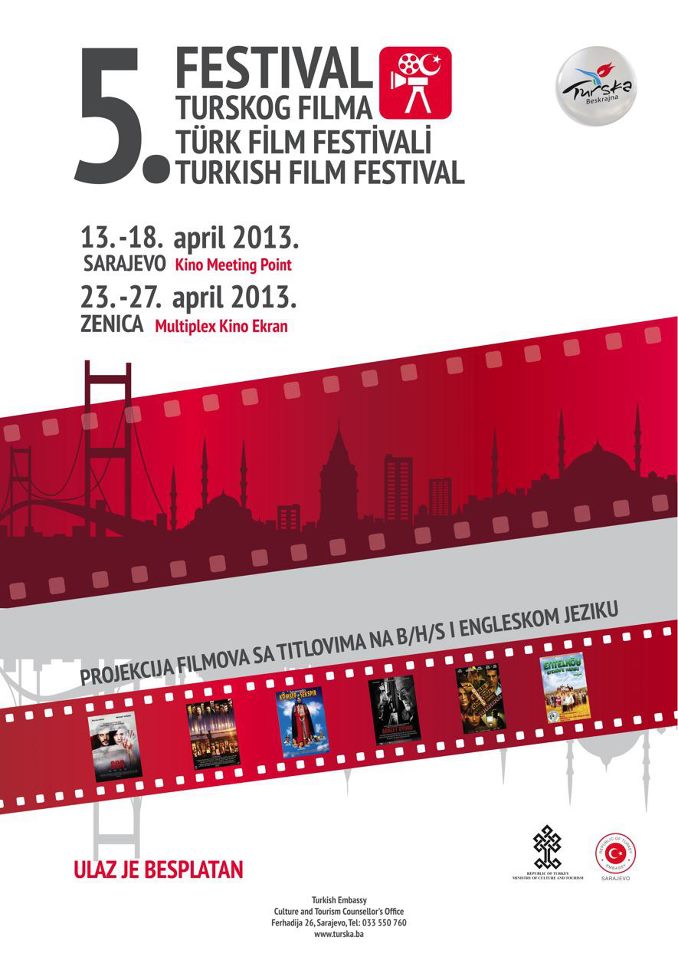 By Medina Malagić – Sarajevo
The five-day Turkish film week that took place in Sarajevo from 13-18 April is continuing, this time in the city of Zenica. Turkish film week in Zenica had its official opening ceremony last night with a screening of the first film called "Komandir Šekspir" (Commissioner Shakespeare).
Five films will be shown in total during Turkish Film Week in Zenica, and entrance is free.
This is the fifth year in a row that Turkish Film Week is taking place under the organization of the Office for Tourism and Culture of the Turkish Embassy to Sarajevo.
In addition to "Komandir Šekspir", the other films that will be screened during the duration of the Turkish Film Festival are Entelköy Efeköye Karşı (Ecotopia), Anlat İstanbul (Istanbul Tales), Güzel Günler Göreceğiz (To Better Days), and Adalet Oyunu (Game of Justice).
In his official address at the film festival in Zenica, the Attache for Culture and Tourism of the Turkish Embassy to BiH Cengiz Aydin said that they are pleased that this manifestation began on 23 April, the day when Turkey celebrates Children's Day.
The significance of this festival in the promotion of diverse cultural events in BiH was demonstrated last night at the opening of the ceremony, which was attended by a number of citizens, politicians and business people from the Zenica-Doboj Canton.
At the opening of the Turkish film festival in Sarajevo, Aydin said "Such cultural activities are very important for mutual relations". Thus, such cultural events are also seen as vital for the continuation of the improvement of relations between Turkey and BiH, since the demand for BiH films is also on high demand in Turkey.
According to the Office for Culture and Tourism of the Turkish Embassy to BiH, the goal of this film festival is to promote Turkish culture and cinematography in BiH, as well as to enrich the cultural scene in BiH.
BiH is host to an array of film festivals throughout the year, and some of the better-known ones are Sarajevo Film Festival that takes place during the summer and Pravo Ljudski in November. Filmmakers and actors whose movies have been screened at these festivals have attended the premieres of their films at these festivals in Sarajevo, and many stay here for a longer period to conduct interviews, workshops and Q&A sessions with an eager audience.
Aydin also announced that at next year's festival reputable people from Turkish cinema would be invited to attend film festivals in BiH. Throughout the years, BiH has been attracting more and more figures from the film industry to participate in various cultural manifestations and film festivals, and the promotion of such events as the Turkish Film Festival and its proliferation into other cities apart from Sarajevo shows the increasing appeal of this country for figures from the film industry throughout the world.