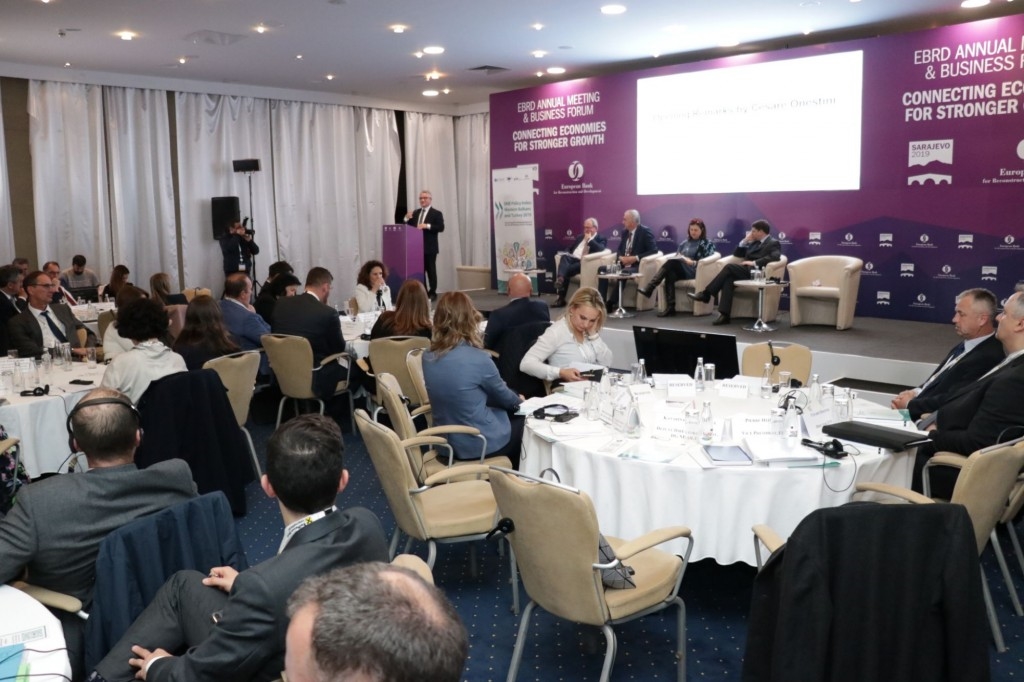 A three-day annual meeting of the Board of Governors of the European Bank for Reconstruction and Development (EBRD), for which more than 3,000 participants have been registered, has begun in Sarajevo.
The representatives of the business community, investors, senior officials, EBRD governors, ministers of finance, economy, treasury or the Central Bank and the representatives of civil society organisations arrived in BiH for the occasion.
Mirko Šarović, the minister of foreign trade and economic relations at the BiH Council of Ministers said that this is an important global forum where BiH should be presented in a better light and as a place suitable for business and investment.
"This opportunity should be used to attract investments", Šarović stressed.
Perhaps the most important session for BiH will be the session "Invest in BiH – Invest in profitable projects", planned for Thursday, where BiH will present its strategic areas and potentials. During this session, the geographical position of the host country of the annual meeting of the EBRD Board of Governors will be pointed out, as well as a legal environment suitable for investors, favourable trade agreements, low operating costs, as well as talented people who make BiH a destination with full potential for profitable investments.
Governor of the Central Bank of Bosnia and Herzegovina, Senad Softić, welcomed the participants of the Trade Facilitation Program session, which is being held in Sarajevo as part of the Annual Meeting of the Board of Governors of the European Bank for Reconstruction and Development (ERBD).
"It is a pleasure to see more than 200 representatives of 150 financial institutions and organizations from 51 countries. We are here to discuss the latest world trends in trade financing, as well as to celebrate champions in trade finance at the award ceremony", Softić said.
The Trade Facilitation Program supports trade in 28 EBRD countries, and since its inception, it has supported almost 800 transactions in Bosnia and Herzegovina.
"At the moment, there are currently three active partner banks in BiH within this program, and in fact two of them joined the program at its inception, 20 years ago and are still active today", Softić pointed out.
He pointed out that the financial system of Bosnia and Herzegovina in the last decade has been stable and profitable. In BiH, there are 23 banks controlled by two agencies, and the Central Bank is in charge of coordinating and supervising the financial stability of the system.
"Finding a balance will be a major challenge for the future. There is great scope for improving trade between BiH and the regions that are in the focus of the Trade Facilitation Program. Trade with other countries of Central and Eastern Europe is increasing, especially because of the CEFTA agreement, but we should strive for better trade integration within the region, especially in light of global trade disputes", Softić emphasized.
The EBRD confirmed that Serbian President Aleksandar Vučić, Montenegrin President Milo Đukanović, Prime Minister of Albania Edi Rama, Prime Minister of North Macedonia Zoran Zaev and President of Kosovo Hashim Thaci will arrive in Sarajevo, while the Chairman of the Council of Ministers in the technical mandate Denis Zvizdić will represent BiH./ibna