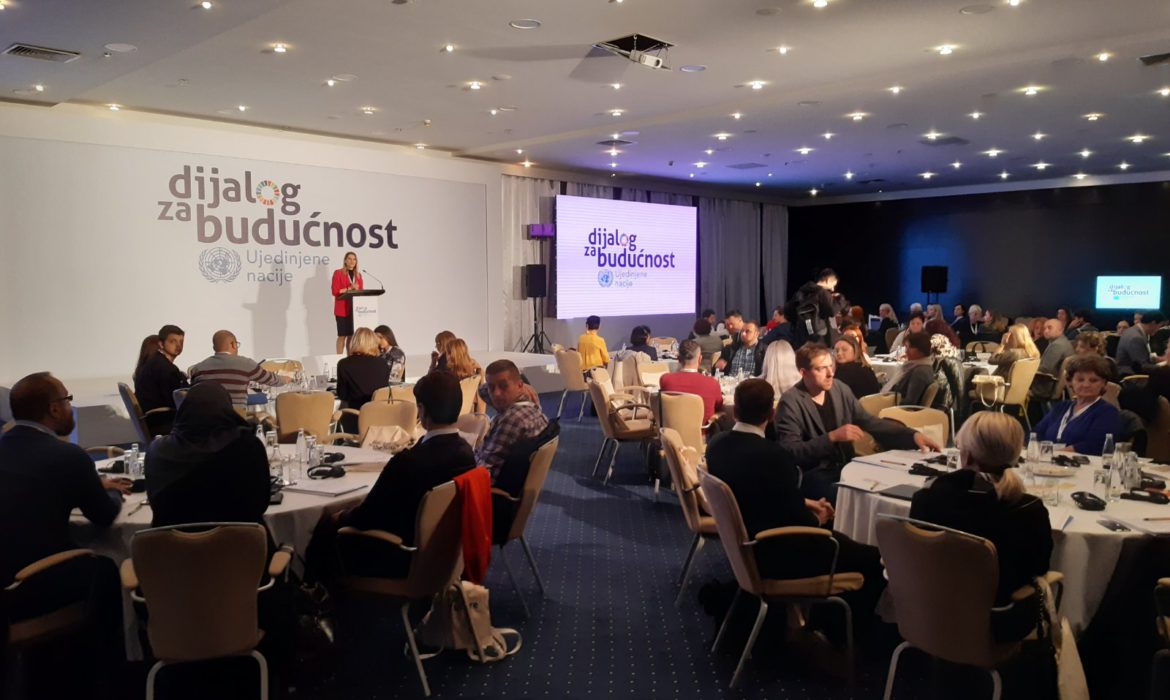 A gathering of young activists and people from the public, civic and business sectors in Sarajevo today marked the opening of the "Dialogue Week" as part of a joint regional program, "Dialogue for the Future."
Implementing program participants – UNDP, UNICEF and UNESCO, from Bosnia and Herzegovina, Montenegro and Serbia, supported by the UN Peacebuilding Fund, are looking at ways to enhance interaction and cooperation between different social and ethnic groups in BiH and the region through dialogue, identifying priorities and engagement in finding appropriate solutions.
The focus of the event, which gathered more than 150 participants in the capital of BiH, is to identify priorities within the BiH Dialogue Platform to strengthen social cohesion and multicultural understanding, including segments of education, employment and confidence-building in society and institutions, all through concrete initiatives and activities.
Referring to the priorities identified under the aforementioned program, United Nations Resident Coordinator in BiH Sezin Sinanoglu emphasized the importance of a program platform that enables the exchange of opinions and experiences within BiH and at the regional level, in order to promote social cohesion, confidence-building and mutual respect and promotion of cooperation and prosperity in the Western Balkans region.
Sinanoglu told reporters that the implementation of the program entails the development of certain competencies and leadership skills necessary for young people, as well as their networking, and the affirmation of a critical mindset.
"The goal is to remove the barriers and bring people together so that politicians can hear their voices," Sinanoglu said, adding it was important for their voices to join the voices of other, similar groups coming from Serbia and Montenegro, which will gather next week as part of a regional dialogue platform.
According to the organizers, the series of events within the Dialogue Week will bring together more than 600 participants and will continue on November 29 in Banja Luka, and then in Sarajevo on December 2 and 3.
The Dialogue for the Future project was developed on the initiative and under the auspices of the Presidency of Bosnia and Herzegovina in 2014, after a meeting between the Secretary-General of the United Nations and the BiH Presidency.
During 2015, at the Brdo-Brioni Summit in Budva, the leaders of the region recognized the importance of the results achieved within the project and encouraged its spreading to other countries in the region./ibna